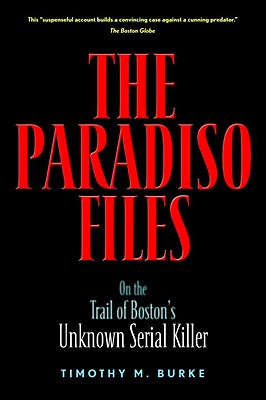 The Paradiso Files: On the Trail of Boston's Unknown Serial Killer (Paperback)
On the Trail of Boston's Unknown Serial Killer
Steerforth Press, 9781586421496, 346pp.
Publication Date: December 2, 2008
* Individual store prices may vary.
or
Not Currently Available for Direct Purchase
Description
In this bold and suspenseful true-crime story, former homicide prosecutor Timothy M. Burke makes his case against one Leonard Paradiso. Lenny "The Quahog" was convicted of assaulting one young woman and paroled after three years, but Burke believes that he was guilty of much more - that Paradiso was a serial killer who operated in the Boston area, and maybe farther afield, for nearly fifteen years, assaulting countless young women and responsible for the deaths of as many as seven. Burke takes the reader inside the minds of prosecutors, police investigators, and one very dangerous man who thought he had figured out how to rape and murder and get away with it.
The Paradiso Files generated headlines when first published in February 2008. Nine days later, Paradiso died at the age of sixty-five without commenting on any of Burke's accusations, including that he murdered Joan Webster, a Harvard graduate student who disappeared from Logan Airport in 1981. Boston-area prosecutors announced in September 2008 that Burke's revelations had led them to reopen the unsolved murder cases of three young women - Melodie Stankiewicz, Holly Davidson, and Kathy Williams. There were "too many similarities between the individual cases to ignore," a prosecutor involved in the new investigation said. Burke's account leaves little doubt that Paradiso's deeds should go down in infamy, alongside those of the Boston Strangler.
About the Author
Timothy Burke successfully prosecuted more than twenty-five murder cases and more than fifty major felonies while assigned to the Homicide Unit of the Suffolk County District Attorney's office, including heading an investigation into the activities of mobster Whitey Bulger, currently number two on the FBI's Most Wanted List. Legal counsel to more than twenty Massachusetts law enforcement agencies, Burke is married, the father of four children, and maintains an active law practice in suburban Boston.
Praise For The Paradiso Files: On the Trail of Boston's Unknown Serial Killer…
"A riveting, real-life tale that feels like a journey through Dante's nine circles of hell . . . Perhaps the greatest compliment any author could receive is a recent acknowledgement that Burke's search for the truth recently spurred the Essex County District Attorney's Office to reopen the investigation into three unsolved killings that took place in the 1970s where Burke suspects Paradiso might possibly be implicated." — Lawyers Weekly
"A Grisham-esque ride through both the legal system and the mind of a killer . . . Add in some cops out of a Dennis Lehane story, some lawyers out of a Richard North Patterson novel and an oddball assortment of witnesses and jurors, and you've got a gripping story. . . This deserves mention alongside Vincent Bugliosi's Helter Skelter and Robert Graysmith's Zodiac as a stellar exploration of the soul of a mass murderer." – Kirkus Reviews
"The story transcends Boston with an insider's view of the criminal justice system." – The Boston Globe
Advertisement