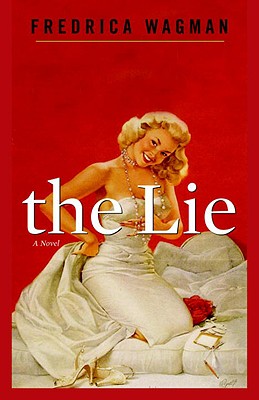 The Lie (Paperback)
Zoland Books, 9781586421571, 214pp.
Publication Date: April 7, 2009
* Individual store prices may vary.
Description
Coming of age in 1940s and 1950s America, Ramona Smollens takes her cues about female sexuality from Hollywood movie stars. None is more voluptuous than Rita Hayworth, the redhead who knows how to please a man and becomes a volcano of passion at her lover's touch, whose image inspired American flyers on their missions in World War II and even graced the first atomic bomb tested at the Bikini atoll. Ramona marries young and escapes her mother's house shortly after the death of her father. She takes with her a dark family secret, the sort of secret one simply did not talk about and that would stalk her as she matured into her role as wife and mother, remained a devoted daughter to her aging mother, and secretly harbored an obsession with the iconic Hayworth.
The fictional story Wagman tells of one woman's struggle with the conventions of her day is a bold literary achievement. Underpinning it all is the sad, unspoken truth of the real-life, flesh-and-blood Hayworth, the woman whose father sexually abused her. "Men go to bed with Gilda," She used to say, "but wake up with me." During Hayworth's lifetime, the public had no understanding of the depth of mean, and pain, behind Hayworth's seemingly self-effacing words. To Ramona, and millions of women like her, Hayworth's on-screen persona seemed the ideal, but was in fact "the lie." With this novel, Wagman realizes Kafkas famous dictum that "a book must be the axe that breaks the frozen sea within us.
About the Author
Fredrica Wagman is the author of five previous novels: His Secret Little Wife; Playing House; Magic Man, Magic Man; Peachy; and Mrs. Hornstien. She has four grown children and lives with her husband in New York City.
Praise For The Lie…
"Fredrica Wagman writes like no one else: her prose swoops and dips and soars, taking us inside a strange and captivating fictional world. The Lie is a wholly original look at the vagaries of love and desire as told through the vivid fantasies and acute perceptions of its narrator. An ordinary-seeming wife, mother and daughter, Ramona Smollens attempts to escape the grip of a painful past, in which she has had to endure a rageful father and a monstrously narcissistic mother, only to discover that the glamor of grownup life wears thin quickly enough and that marriage to a sympathetic man comes with its own disappointments and deceits. Identifying as she does with the mangled psyche and erotic allure of screen siren Rita Hayworth, Ramona speaks a kind of lyric truth that uncovers the heartbreak nestled inside the layers of daily life. Her inability to feel sexual pleasure gradually emerges as a metaphor for the bewildering gap that exists between our earliest wishes and the eventual shape of our destinies." — Daphne Merkin


"Wagman is a writer who notices every bruise and blemish, especially the psychic ones that never heal without love and therapy....I have a feeling that Fredrica Wagman is one of America's best novelists." — The Head Butler.com
or
Not Currently Available for Direct Purchase