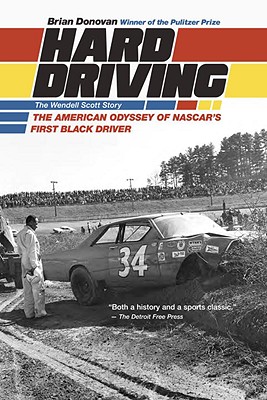 Hard Driving (Paperback)
The Wendell Scott Story
Steerforth, 9781586421601, 328pp.
Publication Date: May 12, 2009
* Individual store prices may vary.
Description
Hard Driving is the dramatic story of one man's dogged determination to live the life he loved, and to compete, despite daunting obstacles, at the highest level of his sport.Wendell Scott figured he was signing up for trouble when he became nascar's version of Jackie Robinson in the segregated 1950s. Some speedways refused to let him race. "Go home, nigger," spectators yelled. And after a bigoted promoter refused to pay him, Scott appealed directly to the sport's founder, nascar czar Bill France Sr.France made a promise Scott would never forget – that nascar would never treat him with prejudice.For the next two decades, Scott chased a dream whose fulfillment depended on France backing up that promise. Persevering through crashes, health problems, and money troubles, Scott remained convinced he had the talent to become one of nascar's best. Hard Driving documents a previously untold chapter in the history of integration, politics, and sports in America. It reveals how France, founder of the multibillion-dollar nascar empire, reneged on his pledge and allowed repeated discrimination against Scott by racing officials and other powerful figures. It details France's alliances with leading segregationist politicians such as George Wallace, the reluctance of auto executives such as Lee Iacocca to sponsor a black driver; and the inspiring support Scott received from white drivers such as nascar champions Ned Jarrett and Richard Petty, who admired his skill and tenacity.
About the Author
Brian Donovan, a former Newsday investigative reporter, has won more than forty journalism awards, including the Pulitzer Prize and Columbia University's Paul Tobenkin Award for reporting on racial and ethnic intolerance. Driving on the EMRA Vanderbilt Cup circuit, he has won a season championship, as well as a track championship at Pennsylvania's Pocono Raceway and dozens of races from Canada to West Virginia. He gained exclusive access to Wendell Scott over the last fourteen months of his life and interviewed more than two hundred individuals to capture this epic, previously untold American story. He lives on Long Island.
Praise For Hard Driving: The Wendell Scott Story…
One of the Year's Top Ten African American History Titles. — Booklist
"Hard Driving is an almost bigger-than-life account of Scott, NASCAR's first and only black driver to compete on a regular basis. . . . Donovan tells it like it was. . . . A copy of Brian Donovan's masterpiece should be in every library in the country, inculding schools. No value can be placed on its worth, not only from the stock car racing side, but from the black history aspect. . . . The only down side of this release is the fact Wendell Scott never had the opportunity to read it. Read it. You will be glad you did. And I'll add this little warning. The last part may bring a tear or two to your eyes." — Morris Stephenson in The Franklin News-Post
"Whatever Robinson's travails, nobody ever tried to kill him on the baseball diamond.... Some of the villains in the Scott story are the saints and heroes of the sport: Baker, Banjo Mathews, Enoch Staley, Bruton Smith. Bill France Sr., NASCAR's founder, promised Scott that as long as he held a NASCAR license he would be treated fairly, but that never happened.
On the other hand, Scott had his defenders and supporters, drivers like Ned Jarrett, Richard Petty and Fireball Roberts. These, some of the sport's good guys, really were.
There is also the suggestion that NASCAR let Scott race only as long as he wasn't too competitive. Donovan makes a persuasive case that automakers gave Scott just enough help to stay in the show without giving him enough to win. Unwittingly, perhaps, Scott became the star of his own awful automotive minstrel show, a black back marker for the amusement of white fans.
He always believed that if he could get into a competitive car, he had the talent to beat the sport's stars. Maybe, maybe not. One thing seems beyond dispute: Nobody ever wanted it worse than Wendell Scott." — The Los Angeles Times
"Donovan is a Pulitzer Prize-winning reporter who often wrote about prejudice. He also became an amateur racer, and clearly warms to his subject. But Donovan doesn't sugarcoat the unseemly side of Scott's character, from the harsh way he treats his family to his affairs with other women.
So is this book for non-racing fans? Yes, although I think hard-core may enjoy it more. That'd be a shame. Scott's story deserves to be told, and Donovan tells it well." — The Charlotte Observer
"Donovan has written a book that is both a history and a sports classic." — Detroit Free Press
"A fascinating book . . . a wonderful story about a really interesting guy." — Toronto Star
"The gripping story of a fascinating, brave man who deserves serious recognition for his solitary accomplishment. . . . Donovan has produced one of the most compelling sports biographies of this or any year. A must-read for NASCAR fans." — (starred review) Booklist
"Donovan shows how Scott's career was every bit as ground-breaking as Jackie Robinson's feat of breaking baseball's color barrier. Perhaps even more. . . ." — The Tampa Tribune
"In this excellent biography, Donovan, a Pulitzer Prize-winning newspaper reporter and seasoned race car driver, recounts the overlooked life of Wendell Scott, the one-time Danville, Va., moonshine runner who broke the color barrier in stock-car racing in 1952 and competed for more than 20 years in a sport dominated by Southern whites... Donovan's writing is well-paced and measured, clearly depicting the complex atmosphere of race relations in the segregated South. His extensive reporting, including interviews with Scott before he died in 1990, combined with his descriptive and enjoyable prose about racing, make this book a deeply compelling story." — (starred review) Publishers Weekly
"In Hard Driving, Brian Donovan has given us a beautifully insightful look at Wendell Scott—a vital NASCAR pioneer—that's exceedingly well-written, and researched with the kind of zeal and expertise necessary for a tale that covers so rocky a road. Talk about a necessary sports biography. Hard Driving is unquestionably a winner." — Robert Edelstein, author of Full Throttle: The Life and Fast Times of NASCAR Legend Curtis Turner
"Brian Donovan has written a surprisingly moving and powerful account of Wendell Scott's utterly American Odyssey. It offers a window into a world not that far removed from our own, as we struggle still to judge each person, as Dr. King said, on the content of their character–not the color of their skin." – Ken Burns, filmmaker, winner of three Emmy Awards, including one for Unforgivable Blackness: The Rise and Fall of Jack Johnson
"Wendell Scott didn't set out to be a civil rights pioneer. He just wanted to race. His determination against all odds not only broke racial barriers in a Southern white sport at a time when few would have thought it possible but changed the way many racing fans thought about race. As a long-time admirer of Scott, it's my hope that this book, splendidly researched and written, brings him the widespread recognition that he has long deserved." – Jerry Bledsoe, New York Times #1 bestseller and author of The World's Number-One, Flat-Out, All-Time Great Stock Car Racing Book
"Wendell Scott was to NASCAR what Jackie Robinson was to baseball. The difference was that Robinson played in liberal Brooklyn and had the backing of Branch Rickey, and Scott raced in the segregated South and hadÉnobody. The hard-working, dauntless Scott, like Robinson, should be a national hero. Until that day, he has Brian Donovan's moving biography as his legacy." – Peter Golenbock, author of Miracle: Bobby Allison and the Saga of the Alabama Gang
"Finally a NASCAR book that doesn't leave the reader feeling like a redneck hillbilly. Donovan's Hard Driving is an American history book that uses stock car racing to educate about the segregationist South. Driver Wendell Scott overcame more hardship than any 10 white NASCAR drivers combined. Donovan has done an amazing investigative reporting job ferreting out the stories and details that give this story life." – Tom Cotter, Road & Track contributing editor and author of The Cobra in the Barn