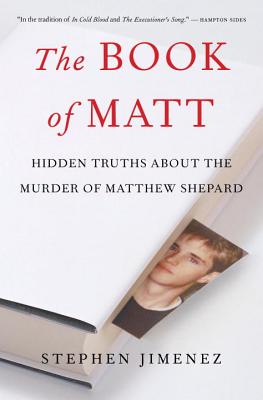 The Book of Matt (Hardcover)
Hidden Truths about the Murder of Matthew Shepard
Steerforth Press, 9781586422141, 368pp.
Publication Date: September 24, 2013
* Individual store prices may vary.
Description
What role did crystal meth and other previously underreported factors play in the brutal murder of gay college student Matthew Shepard?"The Book of Matt" is a page-turning cautionary tale that humanizes and de-mythologizes Matthewwhile following the evidence where it leads, without regard to the politics that have long attended this American tragedy.
Late on the night of October 6, 1998, twenty-one-year-old Matthew Shepardleft a bar in Laramie, Wyoming with two alleged strangers, Aaron McKinney and Russell Henderson. Eighteen hours later, Matthew was found tied to a log fence on the outskirts of town, unconscious and barely alive. He had been pistol-whipped so severely that the mountain biker who discovered his battered frame mistook him for a Halloween scarecrow. Overnight, a politically expedient myth took the place of important facts. By the time Matthew died a few days later, his name was synonymous with anti-gay hate.
Stephen Jimenez went to Laramie to research the story of Matthew Shepard's murder in 2000, after the two men convicted of killing him had gone to prison, and after the national media had moved on. His aim was to write a screenplay on what he, and the rest of the nation, believed to be an open-and-shut case of bigoted violence. As a gay man, he felt an added moral imperative to tell Matthew's story. But what Jimenez eventually found in Wyoming was a tangled web of secrets. His exhaustive investigation also plunged him deep into the deadly underworld ofdrugtrafficking. Over the course of a thirteen-year investigation, Jimenez traveled to twenty states and Washington DC, and interviewed more than a hundred named sources.
"The Book of Matt "is sure to stir passions and inspire dialogue as it re-frames this misconstrued crime and its cast of characters, proving irrefutably that Matthew Shepard was not killed for being gay but for reasons far more complicated and daunting.
About the Author
Stephen Jimenez is an award-winning journalist, writer and producer. He was a 2012 Norman Mailer Nonfiction Fellow and has written and produced programs for ABC News 20/20, Dan Rather Reports, Nova, Fox, Court TV and others. His accolades include the Writers Guild of America Award, the Mongerson Award for Investigative Reporting, an Emmy, and fellowships at the Ucross Foundation in Wyoming. A graduate of Georgetown University, he has taught screenwriting at New York University s Tisch School of the Arts and other colleges. He lives in New York and Santa Fe.

Follow the discussion:

http: //bit.ly/1xqEEco

http: //bit.ly/16qPhp8

Join the conversation: www.facebook.com/bookofmatt

Watch the C-Span Book-TV author event from Laramie:

http: //cs.pn/1IbhcLv"
Praise For The Book of Matt: Hidden Truths about the Murder of Matthew Shepard…
NATIONAL TRUE CRIME BESTSELLER

"A gripping read." — People magazine

"Be prepared to encounter a radically revised version of the life and death of Matthew Shepard . . . This riveting true crime narrative will appeal to readers of books such as Norman Mailer's The Executioner's Song." — Library Journal (★ Starred Review)

"The extensive interviews and dogged investigative research conducted by Jimenez make The Book of Matt a model for journalistic inquiry. . . . Jimenez is revealing today what we should have read fifteen years ago. In the meantime, the media continues to report on some anti-gay hate crimes while completely ignoring others, and thousands go completely unreported out of fear of retaliation. Perhaps the main takeaway from The Book of Matt is that we should challenge ourselves to demand the truth from our media at all times, even if it costs us a tidy narrative." — Rachel Wexelbaum in Lambda Literary Review

"This is an amazing book! A painful story about a horrific event that left one man dead and many lives in pieces. . . It documents the original failure of the media, the community and the criminal justice system to find the real truth. . . . Steve Jimenez has done a remarkable job of removing himself from the story to tell it with pure, heart wrenching honesty and integrity. I know, I caught Russell Henderson the night of the murder. I recovered the gun and washed blood from my hands. . . . The only concern I have from so much more information coming out is it could possibly take away from the exceptional outcomes that have been championed in the name of Matthew Shepherd. I believe a major reason this case so quickly expanded to grab the national consciousness on the inconsistent treatment of our citizens was due to the vacuum that existed there. It is both honorable and appropriate to set the facts in proper order so the truth be known. Can we also acknowledge that vacuum and speak to the need to remedy the situation as well? I would like to believe if we you chose to, we could stop a pendulum mid swing." —  Flint Waters, a former Laramie police officer and drug enforcement agent for the Wyoming Division of Criminal Investigation

"Mr. Jimenez's book is most useful in illuminating the power of the media to shape the popular conception of an event. It shows how a desire for Manichaean morality tales can lead us to oversimplify the human experience. . . . Mr. Jimenez's findings cast doubt on what he calls the Shepard story's function as latter-day 'passion play and folktale.'" — The Wall Street Journal

"Fifteen years ago . . . Aaron McKinney swung his .357 Magnum for the final time like a baseball bat into the skull of Matthew Shepard. Shepard was tied low to a post, arms behind his back, in a prairie fringe of Laramie, Wyoming. . . . The murder was so vicious, the aftermath so sensational, that the story first told to explain it became gospel before anyone could measure it against reality. That story was born, in part, of shock and grief and the fact that gay men like Shepard have been violently preyed upon by heterosexuals. It was also born of straight culture and secrets. . . . Now comes Stephen Jimenez with The Book of Matt, and this most detailed effort to rescue the protagonists from caricature is, with a few exceptions, being coolly ignored or pilloried for 'blaming the victim.' . . .  Jimenez does not polemicize or tread deeply into the psyches of the main figures. Rather, he explores the drug-fueled world they inhabited, and evokes its thick air of violence. . . . Jimenez spent thirteen years to tell his story. . . In this story, Shepard and McKinney were neither lamb nor wolf; they were human commodities, working for rival drug circles to support their habits, and occasionally forced to pay their debts in sex. The Matthew Shepard Foundation, the whole machinery that benefited from the story of a desexualized Bad Karma Kid but otherwise happy-in-his-skin Matthew, that used his horrid death as a banner for hate crime laws, have slammed the book. Kinder reviewers have said Jimenez has made the case less political. On the contrary. What impelled McKinney to loathe his desires, and Shepard relentlessly, dangerously to test himself, and Henderson to follow orders? Violence lacerated these young men long before the murder, and it will not be diminished or resisted by myths and vengeful laws." — JoAnn Wypijewski in The Nation

"Jimenez is careful to point out that his goal is to understand Shepard as a complex human being and make the fullest possible sense of his murder, not to suggest in any way that he deserved his horrific fate. . . . Jimenez's problem is that he has trodden on hallowed ground. America, as John Ford cannily observed in his western The Man Who Shot Liberty Valance, is a country that likes to build up its heroes and villains and rarely appreciates having the record corrected to restore them to the stature of ordinary, fallible human beings. By now, Shepard's story has been elevated close to legend, and Shepard himself to a near-messianic figure who suffered for the ultimate benefit of the rest of us. . . . Many of Jimenez's central contentions are shared by the prosecutor in the case, Cal Rerucha, and by police officers who investigated the murder." —  The Guardian

"Jimenez takes pains to note throughout the book that no matter what led up to the murder, the event was still horrific. And the end result of his retelling is not to demonize Matthew Shepard—Jimenez is himself gay—but to point out that he was human." — Yasmin Nair, In These Times

"I will never view the death of Matthew Shepard in the same way. After finishing The Book of Matt: Hidden Truths about the Murder of Matthew Shepard . . . it is no longer possible to believe the myth that has grown up around the death of this young man in Laramie 15 years ago." — Wyoming Tribune Eagle

"It's been 15 years to the month since a dying Matthew Shepard was found tied to a fencepost outside Laramie, Wyoming. The narrative that quickly emerged — which Stephen Jimenez spends 360 pages debunking in The Book of Matt — was that Shepard had told two strangers he was gay, provoking the savage attack. . . . Jimenez acknowledges that the national revulsion to Shepard's murder actually helped the gay community, creating more awareness, legal protections, and a trend toward true equality. But The Book of Matt finds nothing positive in the media's handling of that case." — Seattle Weekly

"There are numerous hagiographies on the Matthew Shepard murder. [Fifteen] years after Shepard's murder, they're being challenged. Are we ready for the tale investigative journalist Stephen Jimenez, himself gay, spins? . . .Jimenez's message in The Book of Matt: Hidden Truths About the Murder of Matthew Shepard, upends a canonized narrative we all have grown familiarly comfortable with. . . .And now with Jimenez's incontrovertible evidence that Shepard's murderers were not strangers — one is a bisexual crystal meth addict who not only knew Matthew, but partied, bought drugs from and had sex with Matthew. With this 'new' information a more textured but troubling truth emerges. This truth shatters a revered icon for LGBT rights, one deliberately chosen because of race, gender and economic background. . . . The anointing of Matthew Shepard as an iconic image for LGBT rights not only concealed from the American public the real person but also it hid the other varied faces of hate crimes in the 1990's. . . . In reading Jimenez's book we shockingly learn that Matthew Shepard, Gay Icon story is a fictive narrative. . . . The cultural currency of the Shepard narrative's shelf life, might now after nearly two decades be flickering out, or it's now of no use to its framers and the community it was intended to serve. . . . I read Jimenez's The Book of Matt as a cautionary tale of how the needs of a community trumped the truth of a story." — Rev. Irene Monroe, Out in New Jersey

"In the tradition of In Cold Blood and The Executioner's Song, this is a work of literary true crime that reaches far beyond the case itself to probe deep and troubling recesses of the American psyche." — Hampton Sides, bestselling author of Hellhound on His Trail

"The Book of Matt provides us for the first time with the real story of an American tragedy." —Kevin Baker, author of Strivers Row

"No one should be afraid of the truth. Least of all gay people... Shouldn't we understand better why and how?" — Journalist Andrew Sullivan

"An award-winning journalist uncovers the suppressed story behind the death of Matthew Shepard. . . . As Jimenez deconstructs an event that has since passed into the realm of mythology, he humanizes it. The result is a book that is fearless, frank and compelling. Investigative journalism at its relentless and compassionate best." — Kirkus Reviews

"Jimenez does a masterful job of unspooling this haunted narrative like a puzzle, giving you seemingly disparate pieces that take a while to form a larger picture... Anyone interested in the Matthew Shepard case needs to read this book." – Jeff Walsh, Oasis Magazine, an online publication for LGBT youth

"What if nearly everything you thought you knew about Matthew Shepard's murder was wrong? What if our most fiercely held convictions about the circumstances of that fatal night of October 6, 1998, have obscured other, more critical, aspects of the case? . . . None of this is idle speculation; it's the fruit of years of dogged investigation by journalist Stephen Jimenez, himself gay. In the course of his reporting, Jimenez interviewed over 100 subjects, including friends of Shepard and of his convicted killers, Aaron McKinney and Russell Henderson, as well as the killers themselves. . . . In the process, he amassed enough anecdotal evidence to build a persuasive case that Shepard's sexuality was, if not incidental, certainly less central than popular consensus has lead us to believe." — Aaron Hicklin, Editor-in-Chief of Out magazine, in The Advocate

"Stephen Jimenez makes a compelling case that this horrific murder was not a hate crime at all. . . . No doubt Jimenez will face criticism for his powerful book. Why did he have to dig around and stir things up? Won't people who are opposed to equal rights for LGBT people use his exposé for their reactionary purposes? How do these revelations harm those who built programs teaching tolerance based on the Shepard murder? How will Shepard's family feel? . . . The movement for equality for gay people is important, not because of what happened to Matthew Shepard on an October night 15 years ago, but because no one should be less valued as a human being because of who they are or who they love. . . . When combating hatred and bigotry, the truth is always important." — The Jewish Daily Forward

"This is not a left-wing or a right-wing thing. It is not a gay or straight thing, it is not a religious versus atheist thing. It's a human thing. . . . I admire Stephen Jimenez so much for the courage it took to stick with this story for 13 years, and to report facts that apparently destroy the narrative that he expected to find when he first went to Wyoming to look into the Shepard case. There will be a number of people who will hate him for what he's done, especially because he himself is a gay journalist. May we all find the courage to follow the truth and to deal with it, no matter where it leads. I aspire to be as brave in my work as Jimenez has been in his. All of us should learn a lesson from his book. It is important to stand up for what we believe is right. But it is more important for us to stand up for the truth.." — Rod Dreher, author of The Little Way of Ruth Leming, in The American Conservative

"I am persuaded by The Book of Matt that we will learn more that is more valuable if we demand the facts, and not a case that is cut to fit a particular agenda... We need a Steve Jimenez to take up the [Trayvon Martin case, to which the book is compared] and devote to it the energy and attention that he devoted to the Shepard murder, to enrich us with the truth." — Marci A. Hamilton, Justia
Coverage from NPR
or
Not Currently Available for Direct Purchase