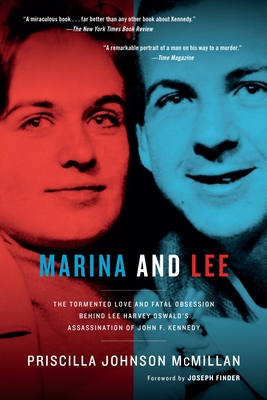 Marina and Lee (Paperback)
The Tormented Love and Fatal Obsession Behind Lee Harvey Oswald's Assassination of John F. Kennedy
Steerforth, 9781586422165, 672pp.
Publication Date: August 6, 2013
* Individual store prices may vary.
Description
The inside story of Lee Harvey Oswald's path to killing John. F. Kennedy. Reissued to mark the 50th anniversary of the Kennedy assassination, Marina and Lee is an indispensable account of one of America's most traumatic events, and a classic work of narrative history. In her meticulous, at times even moment by moment, account of Oswald's progress toward the assassination, Priscilla Johnson McMillan takes us inside Oswald's fevered mind and his manic marriage. When Marina, only a few weeks after giving birth to their second child, hears of Kennedy's death and discovers that Lee's rifle is missing from the garage where it was stored, she knows that her husband has killed the President.

McMillan came to the story with a unique knowledge of the two main characters.  In the 1950s she had worked for Kennedy and had known him well for a time. Later, working in Moscow as a journalist,  she interviewed Lee Harvey Oswald during his attempt to defect to the Soviet Union. When she heard his name again on November 22, 1963, she said, "My God! I know that boy!" Marina and Lee was written with the complete and exclusive cooperation of Oswald's Russian-born wife, Marina Prusakova, whom McMillan debriefed for seven months in the immediate aftermath of the President's assassination and her husband's nationally televised execution at the hands of Jack Ruby.

The truth is far more compelling, and unsettling, than the most imaginative conspiracy theory. Marina and Lee is a human drama that is outrageous, heartbreaking, tragic, fascinating. . . and real.
About the Author
Priscilla Johnson McMillan graduated from Bryn Mawr College in 1950 and received a master's degree in Russian Studies from Harvard-Radcliffe. In 1953 she went to work for Senator John F. Kennedy. In late 1959, she was working as a reporter in Moscow when she interviewed Lee Harvey Oswald, who was trying to defect to the Soviet Union. When JFK was assassinated in Dallas and it was reported that Oswald had been arrested, her first thought was, "My God, I know that boy." In 1964 she befriended Marina Oswald and spent many months at her side, conducting hundreds of hours of interviews, in order to gather the primary source material that would become the foundation for her magisterial book. She would spend another 13 years researching and writing before first publishing Marina and Lee in 1977. She received a MacArthur grant in research and writing for work on her next book, The Ruin of J. Robert Oppenheimer and the Birth of the Modern Arms Race (Viking, 2005).
Praise For Marina and Lee: The Tormented Love and Fatal Obsession Behind Lee Harvey Oswald's Assassination of John F. Kennedy…
"This classic of the JFK assassination literature, originally published in 1977 and now reissued for the 50th anniversary of the murder . . . unfolds like a Russian novel with an American ending, a tale of galling social constraints, claustrophobic relationships and thwarted ambitions that birth a monstrous drive for self-assertion. Oswald is the most vivid of many sharply etched characters -- arrogant, grandiose, calculating but feckless, his narcissism fed by Marxist dogma and Cold War paranoia, seizing a chance to shoot his way from failure to fame." -- Publishers Weekly

"More than three decades after its initial publication, Marina and Lee remains the single best book ever written about the Kennedy assassination.  No one has managed to weave the psychological, political and fateful strands of this crime with the power and perspicacity displayed here by Priscilla McMillan.  This is a book that will leave you deeply shaken and continually haunted." — Thomas Mallon, author of Mrs. Paine's Garage and A Book of One's Own

"McMillan achieves with art what the Warren Commission failed to do with its report. She makes us see . . . It is not at all easy to describe the power of Marina and Lee . . . It is far better than any other book about Kennedy . . . Other books about the Kennedy assassination are all smoke and no fire. Marina and Lee burns." — New York Times Book Review
 
"Because Priscilla McMillan is a superb narrator and a superior scholar, her book has all the power of a first-class novel, and all the austerity of excellent scholarship. It is even more than that. It answers . . . the questions: Did Lee Harvey Oswald murder John Kennedy, was he alone in the act, and why did he do it? . . . The answers are all there, and they all make sense." — Chicago Tribune
 
"McMillan has done us the service of pointing out just how deeply the enemy lives within us. One closes her book pondering the odds that America has a sociological victim like Oswald on every block. Compared to this, the conspiracy question looks incidental. The question is not how many assassins can dance on the head of a pin, but what makes one dance, given a particularly ugly set of human circumstances at birth?" — The New Republic
 
"Fully as persuasive as the conspiracy lore that has preceded it…[McMillan] has a novelist's sense of when to dramatize, through dialogue and the use of exact detail, the crucial twists and turns of domestic life . . . Priscilla McMillan's extraordinary book makes the necessary and subtle connection between private frailties and their power to change the history of the world." — The Atlantic Monthly
 
"Richly detailed and absorbing….Marina and Lee may be the closest we will ever get to understanding the mind of John F. Kennedy's assassin." — Newsday
 
"A fascinating and richly detailed portrait of the man involved in one of the most terrible moments in American history." — The Springfield News-Leader
 
"A woman of intelligence, compassion and understanding, McMillan has written a magnificent book about a man, who, as the world views such things, deserves to be hated.  Yet, without shifting anything from the tragedy or placing blame anywhere, she brings insights to the Oswalds and others involved . . . this book on Oswald may be the best of all . . . There's a lot of heart —Lee's, Marina's and Priscilla's — in it." — The Charlotte Observer
 
"Pulls at the emotions in such a way as to leave the intellect in turmoil." — Asbury Park Evening Press
 
"McMillan has skillfully and vividly captured Lee Harvey Oswald, the man." — The Sacramento Bee
 
"The first comprehensive work of its type that attempts to deal with the life and thoughts of the alleged assassin . . . a fascinating book, highly readable, and very frankly hard to put down . . . entertaining, informative, well written and well documented." — The State (Columbia, SC)
 
"The finest, most insightful, and most carefully researched study of Oswald to date . . . To read Marina and Lee is to be awash in alternate waves of depression and fascination while recognizing that powerful intelligence has reconstructed one of the truly sad and terrible stories of our time." — The Providence Journal
 
"Not only admirable as a piece of writing but a valuable historical document . . . The fruit of all [McMillan's] devoted labor reads almost like a Dostoyevsky novel which treads the threshold of insanity . . . a deeply impressive book, penetrating the smokescreen of argument and speculation . . . the writing is stamped on every page with the sense of truth." — The Age
 
"An eminently human book" — The Cleveland Press
 
"A painstakingly detailed piece of work, a marvel of research" — SoHo Weekly News
 
"Marina and Lee, one of the finest books yet written about a still painful subject, stands as a tragic account of a relationship ultimately destroyed by politics.  It is required reading for anyone interested in what went on in the mind of the man accused of murdering a president." — The Milwaukee Journal
 
"Not likely to be surpassed . . . a compelling story told with a mature authority.  Without detracting from the horror of the act, it forces us to confront the human face of the assassin." — New York Post