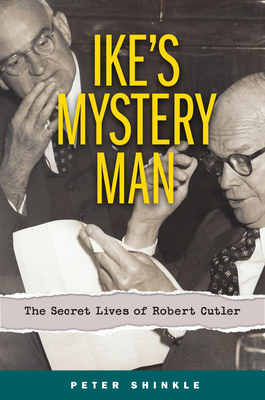 Ike's Mystery Man
The Secret Lives of Robert Cutler
Hardcover

* Individual store prices may vary.
Other Editions of This Title:
Paperback (12/7/2021)
MP3 CD (12/4/2018)
Compact Disc (12/4/2018)
Compact Disc (12/4/2018)
Description
The Cold War, The Lavender Scare, and the Untold Story of Eisenhower's First National Security Advisor.

President Eisenhower's National Security Advisor Robert "Bobby" Cutler -- working alongside Ike and also the Dulles brothers at the CIA and State Department -- shaped US Cold War strategy in far more consequential ways than previously understood. A lifelong Republican, Cutler also served three Democratic presidents. A charming raconteur, he was a tight-lipped loyalist who worked behind the scenes to get things done.

Cutler was in love with a man half his age, naval intelligence officer and NSC staffer Skip Koons. Cutler poured his emotions into a six-volume diary and dozens of letters that have been hidden from history. Steve Benedict, who was White House security officer, Cutlers' friend and Koons' friend and former lover, preserved Cutler's papers. All three men served Eisenhower at a time when anyone suspected of "sexual perversion", i.e. homosexuality, was banned from federal employment and vulnerable to security sweeps by the FBI.
 
This gripping account reveals in fascinating detail Cutler's intimate thoughts and feelings about US efforts to confront Soviet expansion and aggression while having to contend with the reality that tens of millions of people would die in a first nuclear strike, and that a full nuclear exchange would likely lead to human extinction. And Shinkle recounts with sensitivity the daily challenges and personal dramas of a small but representative group or patriotic gay men who were forced to hide essential aspects of who they were in order to serve a president they admired and a country they loved.
Praise For Ike's Mystery Man: The Secret Lives of Robert Cutler…
"A superb and harrowing history of a dual life in a dark era of official oppression...constantly surprising...one of the most rewarding books of popular history I have ever read." — Charles Kaiser in The Guardian

"The never-before-told story of one of the key figures in the Cold War . . . a scintillating tale that shows the personal sacrifices Cutler endured to serve his country, which viewed LGBTQ folks as criminal deviants and a threat to national security." — The Advocate, A Best Book of the Year

"A genuinely engrossing read . . . Illuminating, because it resembles the experiences of countless men and women who, forced for so long to mask their true selves, appeared to the world as mysteries." — The Washington Post

"Shinkle's illuminating biography is a love story, albeit an agonizing one and one that reveals a singular character in American Cold War history." — The Boston Globe

"This informative biography  . . . [sheds] light on forbidden intimate relationships among powerful and privileged men in the mid-20th century.  . . . [and] is sure to appeal particularly to those interested in the history of the Cold War and the contributions of LGBTQ people in American government." — Publishers Weekly

"Readers . . . will relish Ike's Mystery Man for its insider accounts of bureaucratic turf wars." — The St. Louis Post-Dispatch

"A compulsively readable dossier of political and domestic intrigue." — The Gay & Lesbian Review

"History is never set in stone. Peter Shinkle has found in the diary and letters of Robert "Bobby" Cutler, President Eisenhower's National Security Advisor, an extraordinary story of an able public servant, a man who held the nation's most sensitive secrets, who also happened to be gay — at a time when such a thing was supposed to be impossible. Therein lies a gripping, moving tale." — Evan Thomas, author of Ike's Bluff: President Eisenhower's Secret Battle to Save the World

"This astonishing American story transcends politics. It is about how power was wielded in Washington during the 1950s, but also about the eternal conflict between public life and private emotion. Poignant diary entries enrich the narrative of a presidential counselor who spent his life dealing with that conflict." — Stephen Kinzer, author of The Brothers: John Foster Dulles, Allen Dulles, and Their Secret World War

"Ike's Mystery Man is a historical treasure unearthed. Based on the untapped diaries of Eisenhower's National Security Advisor, General Robert "Bobby" Cutler, it gracefully reveals how Ike's "unseen arm" [Cutler] shaped and guided many of the President's most important foreign policies. It also unveils the intimate unknown painful story of a gay man's secret love within the homophobic councils of government.  A must-read for all Cold War scholars, it is a great read for everyone else." — Martin J. Sherwin, Pulitzer Prize-winning co-author of American Prometheus: The Triumph and Tragedy of J. Robert Oppenheimer and University Professor of History at George Mason University 

"Ike's Mystery Man is an important, deeply researched contribution to the history of one of the sorrier episodes in American history — a time  when, during the height of the McCarthy era, thousands of government workers were driven from their jobs or barred from ever getting one because they were gay. To discover, as Peter Shinkle has, that Robert Cutler, President Eisenhower's first national security advisor and one of the authors of the notorious 1953 Executive Order that declared "sexual perversion" a threat to national security, was himself a closeted gay man is astonishing . . . Even more compelling, though, is Shinkle's account of Cutler's private torment as he sought to reconcile his passion for a much younger male assistant with the social mores of his time. This is a book that deserves, and is sure to get, a wide audience." — Michael Isikoff, co-author of Russian Roulette: The Inside Story of Putin's War on America and the Election of Donald Trump

"A honeyed, scintillating and ultimately sad tale of gay love at the highest reaches of the Eisenhower White House . . . Peter Shinkle tells the story of his great uncle Robert Cutler with grace and sensitivity. But if this story had come out at the height of the McCarthyite madness, well, the scandal would have imploded the Eisenhower presidency. Shinkle's stunning book is well-documented with previously undisclosed diaries and letters.  Ike's Mystery Man is a formidable achievement, casting new light on America in the 1950s." — Kai Bird, Pulitzer Prize-winning biographer and Director of the Leon Levy Center for Biography at the CUNY Graduate Center in New York City

Ike's Mystery Man offers an extraordinary look inside the Eisenhower administration, exposing how one of the chief architects of American national security policy during the Cold War was a "confirmed bachelor," even in the midst of Washington's Lavender Scare. This fascinating chronicle of an elite circle of gay men — welcomed into the social world of Mamie and Dwight Eisenhower — demonstrates how extreme discretion and dissembling allowed some to survive the anti-gay purges. Novelists, playwrights and librettists have imagined gay romance within the civil service during this oppressive period. Thanks to the detective work of Peter Shinkle, we now have the diaries and love letters of one such complicated love. — David K. Johnson, author of The Lavender Scare: The Cold War Persecution of Gays and Lesbians in the Federal Government

"A fascinating look into the shadow world of the Cold War capital, a world too long in history's closet. It is also — and not incidentally — a tragic love story." — Gregg Herken, author of The Georgetown Set: Friends and Rivals in Cold War Washington

"Peter Shinkle tells the gripping tale of Bobby Cutler's two great loves — one for another Eisenhower aide and the other for his country. Cutler transcended a climate of rabid homophobia to serve as Ike's "right arm" in crafting national security policy and transforming the role of the National Security Council." — David A. Nichols, author of Ike and McCarthy: Dwight Eisenhower's Secret Campaign Against Joseph McCarthy

"The amazing story of Bobby Cutler, the Harvard-trained lawyer who served as President Eisenhower's national security advisor during the early days of the Cold War. Not only was Cutler gay, he worked with other gay men in the White House, and fell head over heels in love with one of them at the heart of Ike's national security apparatus. This is Washington at the height of the McCarthy era, where vicious hunts for homosexuals were led often by men who themselves were homosexual, or suspected of homosexuality, and an atmosphere of fear and paranoia prevailed. Beautifully researched and written." — Priscilla J. McMillan, author of The Ruin of J. Robert Oppenheimer: And the Birth of the Modern Arms Race

"Banker, lawyer, novelist, consultant to spy agencies, national security adviser to Dwight D. Eisenhower — Robert Cutler pretty much originated the role. More than that Cutler was gay at a time America ostracized that orientation — and his lover was a CIA operative when the agency typically shunned such people. Ike's Mystery Man is an often sparkling account of a fascinating man at the center of power in the first half of the American Century. Read it." — John Prados, author of Ghosts of Langley: Into the CIA's Heart of Darkness

"By at long last producing a biography of Robert Cutler, Shinkle has provided a valuable service to students of not only the Eisenhower administration but also the architecture of the US security state. At the same time he reveals a hidden dimension in the history of sexuality in the 1950s that is highly instructive." — Richard H. Immerman, Professor and Marvin Wachman Director Emeritus Center for the Study of Force and Diplomacy at Temple University

"Peter Shinkle masterfully interweaves two compelling stories. One sheds fresh perspective on Dwight Eisenhower's first national security advisor and his contributions to shaping Cold War policies; the second illuminates Bobby Cutler's sexual identity struggle and his personal relationships in an era when homosexuality was considered perversion and Eisenhower's own policies towards homosexuals were punitive. Ike's Mystery Man is a compelling, even heartbreaking story, told with sensitivity and keen insight. There is no other book like it."  — Michael J. Birkner, Professor of History, Gettysburg College

"Recommended for researchers of the NSC and its major Cold War activities as well as students of LGBTQ history in American government." — Library Journal
Steerforth, 9781586422431, 416pp.
Publication Date: December 4, 2018
About the Author
Peter Shinkle worked for 19 years as a reporter at various news organizations, including most recently the St. Louis Post-Dispatch. He covered the federal court system, and also wrote investigative stories on subjects ranging from improper disposal of radioactive waste to contamination spread by a lead mining company. Shinkle is the great-nephew of Robert Cutler. It was during a family vacation in 2006 that his mother, Judith Cutler Shinkle, and his aunt told him that their "Uncle Bobby" was gay. That sparked a 12-year endeavor to explore the story of the man who was one of President Eisenhower's closest advisors.
or
Not Currently Available for Direct Purchase