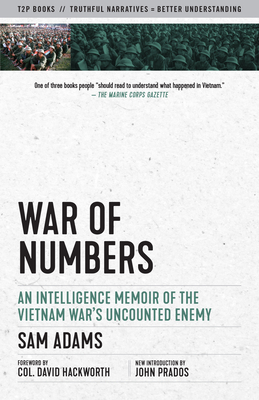 War of Numbers
An Intelligence Memoir of the Vietnam War's Uncounted Enemy (Eyewitness Memoirs)
Paperback

* Individual store prices may vary.
Other Editions of This Title:
Paperback (6/1/1998)
Description
In the fall of 1967, political and military leaders in Washington said the Vietnam War was approaching "the crossover point": More Vietcong soldiers were dying in battle each week than could be recruited. CIA analyst Sam Adams, however, was insisting the good news was an illusion. His estimates of enemy ranks and morale varied wildly from those being released by military intelligence for public consumption, and for use by commanders in the field. Adams' findings indicated the war was unwinnable, and when US leaders failed to acknowledge basic facts, he knew the intelligence was being politicized.
 
From inside the CIA and then after quitting the agency in 1973, Adams embarked on a one-man crusade to expose the truth. He loved intelligence work, and his enthusiasm for it shines throughout this illuminating memoir. Thanks to Adams, newsman Mike Wallace produced his influential CBS News documentary "The Uncounted Enemy: A Vietnam Deception;" General William Westmoreland was called to account, and his book dramatizes in clear, compelling prose how America's involvement in Southeast Asia became such a tragedy.
Praise For War of Numbers: An Intelligence Memoir of the Vietnam War's Uncounted Enemy (Eyewitness Memoirs)…
"More than a rehash of yesteryear's bureaucratic battles, and more even than delicious inside gossip, Adams paints a fascinating and personalized picture of the backroom, political wartime CIA." - Library Journal

"A stunning account by a man of impeccable integrity, of the corruption of U.S. military intelligence in Vietnam." - Mike Wallace

"If someone were to ask me what three books they should read to understand what happened in Vietnam, I would say: Street Without Joy, by Bernard Fall; Honorable Men, by William Colby; and War of Numbers by Sam Adams. . . . There are probaboly 5,000 books on Vietnam. War of Numbers will become a classic." -- Lt. Col. H. Thomas Hayden, The Marine Corps Gazette

"As spellbinding as a mystery story -- which of course it is." -- The Boston Globe

One of "the most important books of the Vietnam War -- Adams has had the last word, in permanent defiance of those who would re-write the war to doublethink specifications." -- The Chicago Tribune

 
Truth to Power, 9781586422516, 304pp.
Publication Date: April 14, 2020
About the Author
Sam Adams was a graduate of Harvard College and spent ten years as an analyst for the CIA. He was completing this memoir when he died of a heart attack in 1988.
 
Col. David Hackworth was the author of About Face and the youngest full Colonel in the US Army when he resigned in protest over the Vietnam War.
 
Dr. John Prados is a senior research fellow at the National Security Archive, where he also directs the Archive's Iraq Documentation Project and its Vietnam Project. His books Vietnam: The History of an Unwinnable War, 1945-1975, Keepers of the Keys and Combined Fleet Decoded were each nominated for the Pulitzer Prize.
or
Not Currently Available for Direct Purchase