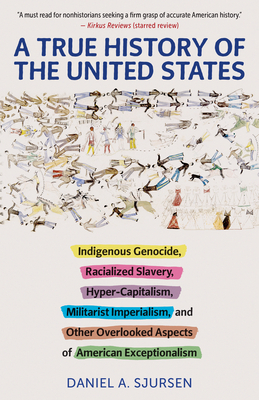 A True History of the United States
Indigenous Genocide, Racialized Slavery, Hyper-Capitalism, Militarist Imperialism and Other Overlooked Aspects of American Exceptionalism (Sunlight Editions)
Paperback

* Individual store prices may vary.
Description
Written by a combat veteran of the wars in Iraq and Afghanistan and a former professor of US history at West Point, his alma mater, this book grew out of the lectures Sjursen produced for the survey course he taught to cadets. Although he covers all of the major events, movements and figures in American history, Sjursen flips the lens, offering fresh insights and uncommon empathy. Written in vivid, engaging prose, A True History is accurate with respect to the facts and intellectually honest in its presentation and analysis.

A True History will change how you view America's past, and present. With chapter titles such as "Original Sin" and "Just How Good Was 'The Good War'?", Sjursen challenges readers to think deeply and critically and to apply common sense to their understanding of the history of our republic.
Truth to Power, 9781586422530, 784pp.
Publication Date: June 1, 2021
About the Author
Daniel A. Sjursen recently retired from the US Army where he had reached the rank of major and served as a history instructor at West Point, his alma mater. He served tours with reconnaissance units in Iraq and Afghanistan. He is the author of Ghost Riders of Baghdad: Soldiers, Civilians, and the Myth of the Surge and Patriotic Dissent: America in the Age of Endless War. Follow him on Twitter at @SkepticalVet and listen to his podcast "Fortress on a Hill," co-hosted with fellow vet Chris "Henri" Henrikson.