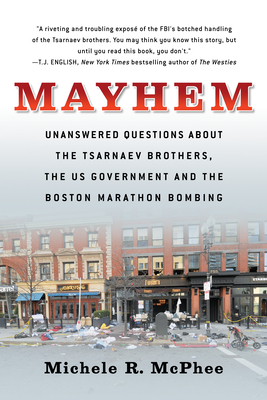 Mayhem
Unanswered Questions about the Tsarnaev Brothers, the US Government and the Boston Marathon Bombing
Paperback

* Individual store prices may vary.
Description
Mayhem goes a long way toward answering questions that still linger about the notorious Boston Marathon bombing, such as: Where were the bombs made? And what had been Tamerlan Tsarnaev's relationship to the FBI? This page-turning narrative casts a spotlight on the US Government's relationship with the older Tsarnaev brother as his younger brother, Dzhokhar, continues his efforts to have his death sentence commuted.

The federal government may be forced to confirm a longstanding relationship with Tamerlan and its decision to shield him from investigation for the Sept. 11, 2011 ISIS-style triple murder of three friends. As they infamously did with Whitey Bulger, federal agents appear to have protected Tamerlan because of his value as a paid informant. Mayhem is a substantially revised and updated first paperback edition of Michele R. McPhee's earlier book about the bombing, Maximum Harm.
Praise For Mayhem: Unanswered Questions about the Tsarnaev Brothers, the US Government and the Boston Marathon Bombing…
"No single reporter has covered the Boston bombing as thoroughly as Michele McPhee. She knows Boston — its streets, its cops, and its corridors of power. Mayhem is riveting and troubling exposé of the FBI's botched handling of the Tsarnaev brothers. You may think you know this story, but until you read this book, you don't." — T. J. English, New York Times-bestselling author of Where the Bodies Were Buried and The Westies

"A riveting, eye-opening page-turner that takes you into the real world of international terrorism." — Bernard B. Kerik, New York City police commissioner (retired)

"Shocking new truths about the Boston Marathon bombers and those in government, law enforcement, and their own community who gave them free rein to plot and execute one of the most vicious terror attacks ever carried out on American soil. This book will grab you, shake you, and will not let you go!" — Casey Sherman, New York Times-bestselling author of Boston Strong

"McPhee is an old-fashioned, hard-working, street-smart investigative journalist who is determined to get to the bottom of things."  — Prof. John D. Woodward, Jr., Boston University (Retired CIA officer).
 
"McPhee's reporting clearly proves the government at best lied or covered up, at worse falsified, the facts of a terrorist attack on American soil. A great read for those of us who are fascinated with the truth." — Jerry Flynn, President United Federation of Police Officers

"McPhee's latest true crime narrative takes the story of the Boston Marathon bombing to new levels with her gripping account of the explosion, the frantic search for the culprits, and the eventual trial of Dzhokhar Tsarnaev. Even readers familiar with the contours of the tragedy are likely to find McPhee's narrative terrifying and moving." — Publishers Weekly

" McPhee is no armchair journalist reporting from the remove of the newsroom with facts gleaned from Google. She takes you there, to the scene of the crime: a horrendous bombing at a marathon finish line, a pitched gun battle between cops and terrorists in suburban streets — all conjured with vivid, taut prose that gives the reader a deeper look beneath the surface carnage to uncover the disturbing complexities of federal law enforcement. — Richard Stratton, author of Smuggler's Blues

"McPhee, like all great investigators, well understands that one of the keys to unraveling a major case is the ability to recover unseen and seemingly irretrievable facts through the use of well placed sources. Her chronicling of the staggering details surrounding this act of terror is light years ahead of the standard Hollywood crime drama." — Sean Foley retired NYPD detective first grade 

"Our nation's leaders would do well to wise up and pay attention to the lessons Michele teaches us about the Boston bombing and the serious gaps in intelligence and law-enforcement collaboration." — Scott Mann, former Green Beret 










Steerforth, 9781586422615, 288pp.
Publication Date: April 14, 2020
About the Author
Michele R. McPhee covered the Boston Marathon bombing as a reporter. She is the author of seven true crime books, a five-time Emmy-nominated producer in the ABC News Investigative Unit, a Pulitzer Prize-nominated newspaper columnist, an award-winning magazine writer, a television commentator, and was formerly the only female host of a Boston drive-time radio show. She was a writer on Season 1 of the Showtime series City On A Hill and is currently working on Season 2 as what The New York Times called the "Boston credibility consultant." She is developing her Newsweek cover story on the FBI informant who infiltrated MS-13 into the HBO scripted series The Beast, and into the book Operation Mean Streets. She lives in East Boston, Massachusetts and Echo Park, Los Angeles.