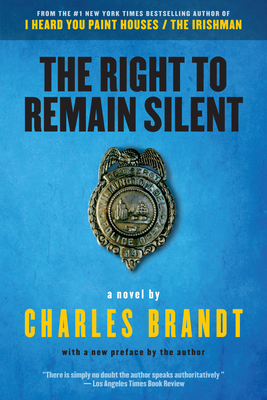 The Right to Remain Silent
A Novel
Paperback

* Individual store prices may vary.
Description
Page-turning detective fiction from the author of I HEARD YOU PAINT HOUSES / THE IRISHMAN who was himself a homicide investigator and prosecutor.

Wisecracking cop Lou Razzi's zeal, dedication and talent for extracting information from suspects make him destined to rise quickly through the ranks . . . until a frame-up sends him to jail for two years. He loses his career, his marriage, and his baby daughter, and following his release from prison, he leaves the country for a sort of self-imposed exile in Brazil.

Fifteen years later, an exonerated, more hardened Razzi comes back to serve a single day on the force and claim his pension. But that one day becomes a continuing education when Razzi is drawn onto a conspiracy and finds his old police tools fruitless in the wake of the Miranda decision. Forced to learn, like a rookie, from his mistakes, he starts to find his way with the help of assistant district attorney Honey Gold. . . and is able to combat the powers that framed him then and thrive now in the new era of police procedure. When The Right to Remain Silent was first published, then-President Ronald Reagan wrote Brandt an unsolicited fan letter: "I commend your novel…for your forthright stand on improving protection of law-abiding citizens."

"The Right to Remain Silent is a novel written and to be read for entertainment, but it also encourages study of the art of interrogation and contains the line that 'confession is one of the necessities of life, like food and shelter.'" -- Charles Brandt from the Preface
Praise For The Right to Remain Silent: A Novel…
"There is simply no doubt the author speaks authoritatively." — Los Angeles Times Book Review

"Strong and vivid." — The New York Times Book Review 

"Not to be Missed." — The Sunday Times

"Detailed, realistic, and with excellent character development and motivation, this is as good as . . . Scott Turow's Presumed Innocent." — Library Journal

 "Forceful, vibrant, highly-charged." — Booklist

"Intriguing . . . action-filled . . . An entertaining intelligent look at police work and the law." — The News Journal (Wilmington)

"Brandt writes with energy and an insider's knowledge of the criminal justice system." — The Birmingham (AL) News

"Unique insights . . . blending a fast pace with realistic detail." — Richmond Times-Dispatch
 "A winner! . . . Lots of action, a crazed vigilante, a couple of murders, a little romance…fascinating." — Knight Ridder Newspapers

 "Just when you think all the angles have been written and the stories told, along comes someone like Brandt . . ." — The Star-Banner (FL)

"An excellent, wonderfully entertaining crime story. From beginning to end, a superb page-turner with an expert's eye throughout." —Robert K. Tanenbaum
Steerforth, 9781586422639, 304pp.
Publication Date: February 14, 2020
About the Author
Born and raised in New York City, Charles Brandt is a former junior high school English teacher, welfare investigator in East Harlem, homicide prosecutor, and Chief Deputy Attorney General of the state of Delaware. In private practice since 1976, he has been president of the Delaware Trial Lawyers Association and the Delaware Chapter of the American Board of Trial Advocates. He is the author of I Heard You Paint Houses, the inspiration for Martin Scorsese's film The Irishman, and co-author of Joe Pistone's Donnie Brasco: Unfinished Business and of Lin DeVecchio's We're Going to Win This Thing: The Shocking Frame-Up of a Mafia Crime Buster.
or
Not Currently Available for Direct Purchase