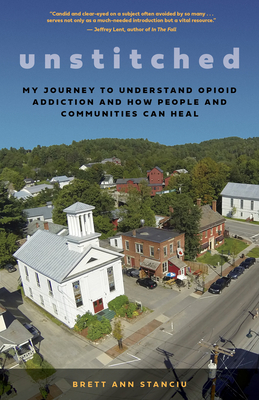 Unstitched
My Journey to Understand Opioid Addiction and How People and Communities Can Heal
Paperback

* Individual store prices may vary.
Description
What if society looked at addiction without judgement?

Unstitched shares the powerful story of one librarian's quest to understand the impact of addiction fed by stigma and inevitable secrecy.

The opioid epidemic has hit people in communities large and small and across all socio-economic classes. What should each of us know about it, and do about it?

Unstitched moves readers from feelings of helplessness and blame into empathy, ultimately helping friends, family, and community members separate the disease of addiction from the person underneath.

A stranger, rumored to be a heroin addict, repeatedly breaks into the small-town library Brett Ann Stanciu runs. After she tries to get law enforcement to take meaningful action against him—elementary school children and young parents with babies frequent the place after all—he dies by suicide. When she realizes how little she knows about opioid misuse, she sets out on a mission, seeking insight from others, such as people in recovery, treatment providers, the town police chief, and Vermont's US attorney.

Stanciu's journey leads to compassionate generosity, renewed faith, and ultimately a measure of personal redemption as she realizes she has a role to play in helping the people of her community stitch themselves back together.
Praise For Unstitched: My Journey to Understand Opioid Addiction and How People and Communities Can Heal…
"…A compelling read, and an important one."
--Literary North

 "This is a deeply compassionate and extremely important book"
--The Deerfield Valley News

"…by approaching these conversations with humility, willing to listen and not judge, Stanciu gathered an illuminating collection of testimonials."
--Seven Days

"…written in such an accessible manner that I found it difficult to put down."
--Addison County Independent

"...as gripping as a good novel. Stanciu skillfully weaves together the complexities of addiction and the opioid crisis, and it's hard to put the book down."
--Montpelier Bridge

"Unstitched is a harrowing, and absorbing read about addiction, and discovery. compassion, persistence, knowledge, and strength. A book that is hard to put down once started, due to the gripping, but frequently beautiful writing of the author." 
-- The North Star Monthly

"This is both a page-turner and a primer in understanding the many complex dimensions of the opioid crisis in a rural state, where the reader accompanies the author in her own recovery and process of discovery. Ultimately, it is impossible for any of us to be totally disconnected from the impact opioid use disorder has on our communities, and it is through reading Stanciu's skillful, compassionate and thoughtful rendering of personal stories that we can all gain valuable insight, diminish harmful stigma, and foster true healing."
--Dr. Mark Levine, Vermont State Health Commissioner

"Powerful! An exploration through education of substance misuse disorder and its impact on small town idyllic Vermont. The personal redemption and recovery story of the writer is beautifully interwoven with insights into stigma, opioid misuse and finally recovery through purpose, community and connection.  Beautifully crafted and a must read for anyone affected by substance misuse disorder."
--Fawn D. Montanye, Executive Director Vermont Recovery Network

"I took a sobering read through this book because it focuses a lot on community, conversation, Vermont and the effects/impacts of substance abuse on all lives involved. This book allows the reader to be a bystander to the heartbreaks, headaches, and heartwarming forays into understanding how things ended up the way are. This book can empower us and at the same time provide hints of destruction of the family system, and an inability to move forward with our lives when working through recovery."
--Jason Broughton, Vermont State Librarian & Commissioner
 
"The opioid crisis darts jagged all around us, if we but open our eyes to it.  Unstitched deftly lays out the groundwork for the crisis but also probes deeply into the personal, bringing the reader face to face with stories of tragedy and loss, courage and great strength as well as just plain luck, good and bad. Brett Stanciu is brutally honest about the jaws of addiction, candid and clear-eyed on a subject often avoided by so many. In our small state the notion of community holds us together at all levels, as, in fact, community flourishes most places. Within lies perhaps the greatest hope to meet this dire need. For many of us, Unstitched serves not only as a much-needed introduction but a vital resource to be returned to, over and again."
--Jeffrey Lent, author of In the Fall and Before We Sleep

"Unstitched is riveting, compassionate, topical, and one of the best books I've read this year. Stanciu, in beautiful prose, takes on the impact of the opioid epidemic on a small Vermont town with the gusto and suspense of a fine mystery novel, and the empathy that only a truly fine observer of the human condition could muster. Highly recommended."
--Thomas Christopher Greene, author of The Headmaster's Wife and The Perfect Liar, Founding President of Vermont College of Fine Arts
 
"Unstitched should be mandatory reading. It is a heartbreaking, raw, tender and revelatory look at addiction and its pervasive grip on ourselves, our families, our communities, and our rural towns. It is also a sublimely written narrative of transformation, vulnerability, discovery and love. This book undid me as I read—taking me into the heart of suffering, revealing my own habits, biases and fears—and then it gathered those pieces together and braided them into something new: a vision of hope, connection, possibility and healing for us all. Stanciu's courage, generosity, curiosity and gorgeous words are the very best of guides."
--Robin MacArthur, author of Heart Spring Mountain and Half Wild
 
"While Unstitched begins as a true crime memoir set in an idyllic small Vermont town, soon it explodes into an exploration about "the ugliness of poverty, the ravages of drug addiction" as Stanciu studies our nation's and her own addition crises. Stanciu shines a light on the things we don't want to see: drug and alcohol abuse spread throughout our hometowns, including her own. Stanciu's beautiful light, and stunning writing, transforms those who are considered "once a junkie, always a junkie," into our friends and neighbors—where "recovery is possible" and "we are alike." By the end, this smart, thoughtful, and beautifully written book asks, "What if [we] had been able to see beyond the stigma?" while asking us, the reader, to do the exact thing since, "These people are us."
--Sean Prentiss, author of Finding Abbey and Crosscut: Poems
 
"With this thoughtful and thought-provoking book, Brett Stanciu shines a light on the twin tragedies of addiction and suicide that have infiltrated every family in America, even more so during the pandemic.   Following the suicide of a man she hardly knew, Brett embarks on a quest to better understand the grip of addiction, meeting and listening to families who have been torn apart by this scourge.  Each of the stories is powerful; Jenna's will break your heart.  And stay with you.
Having grown up on a Vermont farm, descended from Scottish ancestors who were the first to settle this area of the Northeast Kingdom 200 years ago, I find it hard to reconcile the wave of addiction scouring our state with my own experience, and bucolic image, of life here in Vermont.  Addiction, and all the dark aspects associated with it, is a subject I'd like to ignore.  But ignoring it isn't going to help or make it go away, and Brett's book has led me re-examine what I could do to be part of the solution; I wish I could have helped Jenna.  This book may provide a lifeline to someone in need, and might begin a conversation that saves a life.
It will take all of us together to save our communities. As Brett states so eloquently, "The possibility of redemption shimmers before us."  Her book shimmers with hope; there are still things an individual, and a community can do, to make a difference."
--Natalie Kinsey-Warnock, author of As Long As There Are Mountains and The Canada Geese Quilt

"In this gripping memoir, Brett Ann Stanciu explores a small-town tragedy with deep empathy and insight. Weaving the people and landscapes of Vermont with the history of the opioid crisis, she delves into her own darkness to seek what connects us. Beautifully crafted and researched, this book is for everyone, whether you've known the secret pain of addiction in your family or seen it ravaging your community. A luminous act of compassion and courage."
--Diana Whitney, author of You Don't Have to Be Everything

"With compassion, curiosity, and a fine eye for detail, Brett Stanciu takes us on an unforgettable journey into the world of addiction and recovery in rural Vermont. The result is a beautiful and affecting story about the resilience of spirit and of community, at precisely the time we most need an abundance of both."
--Ben Hewitt, author of The Town That Food Saved and Homegrown
 
"The shift in scale throughout Unstitched—from a tiny Vermont library, from one person's annoyance with one addict's break-ins, to the global scope of the opioid epidemic—is gut-wrenching. In a memoir that is generous and capacious at the same time that it is intimate, difficult, and finely wrought, readers will be carried by this deftly woven investigation into addiction in a small town. Brett Stanciu opens every door she can find, including in herself, in order to understand one of the most inscrutable ways we can lose ourselves and each other. I didn't want to read this book, given my own family's loss, and then I couldn't put it down. Unstitched is the book about addiction that everyone needs to read—if we are ever to understand what needs to be done."
--Kerrin McCadden, author of Keep This To Yourself
 
Steerforth, 9781586422691, 224pp.
Publication Date: September 14, 2021
About the Author
Librarian Brett Ann Stanciu is a graduate of Marlboro College and recipient of a Vermont Arts Council Creation Grant. Her novel Hidden View, published in 2015, portrays the challenges of family and hardscrabble farming, loss, and the possibility of redemption. She lives in the Northeast Kingdom of Vermont with her family.