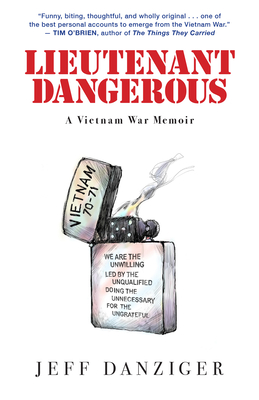 Lieutenant Dangerous
A Vietnam War Memoir
Paperback

* Individual store prices may vary.
Description
Most readers will know Jeff Danziger as a brilliant cartoonist. Lieutenant Dangerous shows that he is a brilliant writer as well. Full of mordant observations and absurdist escapades, this memoir of his army service reads like a real-life Catch 22 -- with Danziger as the Captain Yossarian of the Vietnam War. Lieutenant Dangerous joins the small shelf of must-read books for a sense of what it was really like to be a soldier in America's most unpopular war. -- Max Boot, author of The Road Not Taken: Edward Lansdale and the American Tragedy in Vietnam Not since Tobias Wolfs' In Pharoah's Army has there been such an honest and self-aware war memoir to come out of the Vietnam conflict. Jeff Danziger's Lieutenant Dangerous belongs on the shelf next to Wolf, Tim O'Brien's The Things They Carried, and Karl Marlantes' Matterhorn. -- Tom Bodett, Author and radio anomaly
Steerforth Press, 9781586422738, 208pp.
Publication Date: July 6, 2021
About the Author
Jeff Danziger, one of the most widely recognized political cartoonists of his generation, is syndicated by the Washington Post News Service and is the recipient of the Herblock Prize and the Thomas Nast (Landau) Prize. He served in the US Army 1967-1971, one year in Vietnam in the First Air Cavalry, the 11th ACR and other units. He received the Bronze Star and the Air Medal.