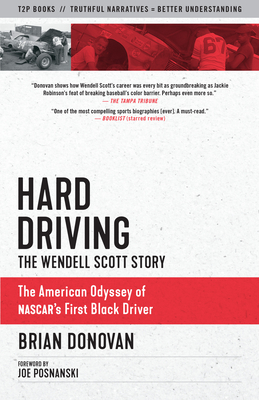 Hard Driving
The Wendell Scott Story (Truth to Power)
Paperback

* Individual store prices may vary.
Other Editions of This Title:
Digital Audiobook (8/2/2021)
Description
The only book-length account of the life of Wendell Scott, the one-time moonshine runner who broke the color barrier in stock-car racing in 1952 and, against all odds, competed for more than 20 years in a sport dominated by Southern whites.

Hard Driving is the story of one man's determination to live the life he loved, and to compete at the highest level of his sport. When Wendell Scott became NASCAR's version of Jackie Robinson in the segregated 1950s, some speedways refused to let him race. Scott appealed directly to the sport's founder, NASCAR czar Bill France Sr., who promised that NASCAR would treat him without prejudice. For the next two decades, Scott chased a dream whose fulfillment depended on France backing up that promise. France reneged on his pledge, but Scott did receive inspiring support from white drivers who admired his skill and tenacity, such as NASCAR champions Ned Jarrett and Richard Petty.
Praise For Hard Driving: The Wendell Scott Story (Truth to Power)…
"Donovan shows how Wendell Scott's career was every bit as groundbreaking as Jackie Robinson's feat of breaking baseball's color barrier. Perhaps even more so." — Tampa Tribune

"Donovan tells it like it was. . . . A copy of [this] masterpiece should be in every library in the country, inculding schools." — Morris Stephenson in The Franklin News-Post
"Both a history and a sports classic." — Detroit Free Press

"A fascinating book . . . a wonderful story about a really interesting guy." — Toronto Star
"One of the most compelling sports biographies of this or any year. A must-read for NASCAR fans." — (starred review) Booklist
"Donovan's writing is well-paced and measured, clearly depicting the complex atmosphere of race relations in the segregated South. His extensive reporting, including interviews with Scott before he died in 1990, combined with his descriptive and enjoyable prose about racing, make this book a deeply compelling story." — (starred review) Publishers Weekly
"Talk about a necessary sports biography. Hard Driving is unquestionably a winner." — Robert Edelstein, author of Full Throttle: The Life and Fast Times of NASCAR Legend Curtis Turner
"A surprisingly moving and powerful account of Wendell Scott's utterly American Odyssey. It offers a window into a world not that far removed from our own, as we struggle still to judge each person, as Dr. King said, on the content of their character–not the color of their skin." — Ken Burns, filmmaker, winner of three Emmy Awards, including one for Unforgivable Blackness: The Rise and Fall of Jack Johnson
"Wendell Scott was to NASCAR what Jackie Robinson was to baseball. The difference was that Robinson played in liberal Brooklyn and had the backing of Branch Rickey, and Scott raced in the segregated South and hadÉnobody. The hard-working, dauntless Scott, like Robinson, should be a national hero. Until that day, he has Brian Donovan's moving biography as his legacy." — Peter Golenbock, author of Miracle: Bobby Allison and the Saga of the Alabama Gang
Steerforth Press / Truth to Power, 9781586423025, 368pp.
Publication Date: August 3, 2021
About the Author


BRIAN DONOVAN was a Newsday investigative reporter who won more than forty journalism awards, including two Pulitzer Prizes and Columbia University's Paul Tobenkin Award for reporting on racial and ethnic intolerance. Driving on the EMRA Vanderbilt Cup circuit, he won a season championship, as well as a track championship at Pennsylvania's Pocono Raceway and dozens of races from Canada to West Virginia. He gained exclusive access to Wendell Scott over the last fourteen months of Scott's life and interviewed more than two hundred individuals to capture this epic, previously untold American story. Brian died in 2018.

JOE POSNANSKI is the #1 New York Times bestselling author of six books, including Paterno and The Secret of Golf. A longtime columnist for Sports Illustrated, NBC Sports, and The Kansas City Star, and currently senior writer for The Athletic, he was twice named the best sports columnist in America by the Associated Press Sports Editors. He lives in Charlotte, North Carolina, with his family.
or
Not Currently Available for Direct Purchase