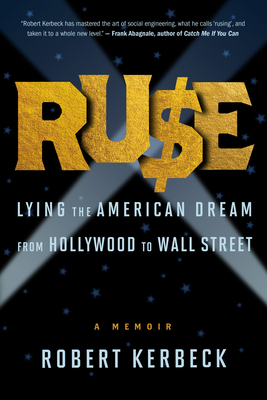 Ruse
Lying the American Dream from Hollywood to Wall Street
Paperback

* Individual store prices may vary.
Other Editions of This Title:
Digital Audiobook (2/28/2022)
Description
"Robert Kerbeck has mastered the art of social engineering, or what he calls 'rusing', and taken it to a whole new level. In a world of too much information, Kerbeck has used that to his great success." —Frank Abagnale, author of Catch Me If You Can

B-list actor, A-list corporate spy

Even as he built a respectable career appearing on loads of memorable 90s TV shows, Robert Kerbeck made his real money by lying on the phone, tricking people inside multibillion-dollar corporations into telling him things they definitely should not. Kerbeck had found the perfect day job for an actor trying to make a living: playing a role.

In the days long before Google and LinkedIn, Kerbeck relied on both the safe distance and intimacy afforded by the old analog phone. He charmed eager-to-please assistants, gaining their trust along with total access to a company's most valuable information, which could include the exact revenue of their firm's top rainmakers (as well as their unlisted phone numbers).

This shadowy intel was then provided, at tremendous cost, to the aboveboard executive search firms and corporations looking to pinpoint and poach top talent in a high-stakes game of Wall Street winner-take-all.

Kerbeck's once promising acting career tailed off as he burrowed deeper and deeper into the world of corporate espionage, to the point where his income jumped from tens of thousands to hundreds of thousands to millions of dollars a year. Until the inevitable crash...

Perfect for fans of Catch Me If You Can and The Wolf of Wall Street, Ruse explores the lies Kerbeck told, the celebrities he screwed (and the ones who screwed him), the cons he ran, and the millions he made—and lost—along the way. Kerbeck has never revealed his hand, until now.
Steerforth, 9781586423162, 288pp.
Publication Date: February 1, 2022
About the Author
Robert Kerbeck is the founder of the Malibu Writers Circle and his essays and short stories have been featured in numerous magazines and literary journals, including Narratively, Cimarron Review and Los Angeles Magazine. His short story "Reconnected" was adapted into an award-winning film and has appeared at film festivals worldwide. He is a lifetime member of The Actors Studio and an award-winning actor. He is also the author of Malibu Burning: The Real Story Behind LA's Most Devastating Wildfire.