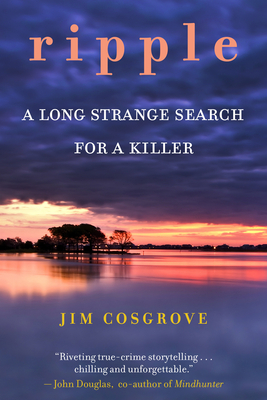 Ripple
A Long Strange Search for A Killer
Paperback

* Individual store prices may vary.
Description
"Riveting... a personal and highly original work of true-crime storytelling." — John Douglas, former FBI criminal profiling pioneer and co-author of the #1 New York Times bestseller Mindhunter

A chilling investigation into the unsolved "boy in the woods" murder; journalist Jim Cosgrove chronicles his decades-long struggle to uncover the truth of a family friend's disappearance and death — perfect for fans of I'll be Gone in the Dark and Memorial Drive.

For nine years, South Carolina officials struggled to identify "the boy in the woods," a young man whose body had been discovered just south of Myrtle Beach in a fishing village called Murrells Inlet.

Meanwhile, 1,200 miles away in Kansas City, Missouri, Frank McGonigle's family searched for him at Grateful Dead concerts and in the face of every long-haired hitchhiker they passed. Consumed by guilt for how they'd treated him, Frank's eight siblings slowly came to understand that — like Jerry Garcia sang — he's gone and nothin's gonna bring him back.

Frank McGonigle was finally found — and identified as "the boy in the woods."

Four years later, the case still unsolved, Jim Cosgrove, a McGonigle family friend and investigative journalist, picked up the trail of Frank's cold case and began uncovering connections to a ruthless local crime boss and blunders by the threadbare sheriff's department.

When his research began to stall, a chance meeting with the soft-hearted, straight-talking "energy reader" Carol Williams provided a metaphysical spark that reignited Jim's resolve. Although his work as a journalist trained him to be skeptical, Cosgrove found himself starting to become a believer when Carol provided details about Frank's murder that turned out to be freakishly accurate.

In 2019, Cosgrove returned to Murrells Inlet with one of Frank's brothers to dredge up some old leads and settle Frank's case once and for all…
Praise For Ripple: A Long Strange Search for A Killer…
*One of the best nonfiction crime books of 2022 (so far)*
--Crimereads

"An intriguing . . . excavation of an unsolved crime."
-- Kirkus Reviews

"Exquisite details help to make Ripple a captivating true crime account of a murder..."
--Foreword Reviews

"Cosgrove masterfully weaves together the family's fabric and spends enough time with each of them to capture their individual characters, drawing the reader into their search for Frank. His conversational tone makes this an easy read for all, especially true crime lovers."
--Booklist

"Thoroughly riveting and ultimately redeeming examination of an American mystery. Like a great profiler, Cosgrove reveals both the darkness and light in his subjects."
--John Douglas, FBI criminal profiling pioneer and co-author of the #1 New York Times bestseller Mindhunter

"Both a true-life murder mystery and a family saga, Ripple is, at the same time, a lament for the universal human condition. Through sensitive prose and self-revealing introspection, Jim Cosgrove chronicles his decades-long quest to uncover the truth of a family friend's disappearance and death and, in the process, has produced a moving and revealing chronicle of the challenge in truly knowing what is in another person's heart."
--Mark Olshaker, documentary filmmaker, novelist and co-author of Mindhunter and The Killer's Shadow
Steerforth, 9781586423247, 208pp.
Publication Date: April 5, 2022
About the Author
Award-winning entertainer, author, and speaker Jim Cosgrove is a former feature writer for the Albuquerque Journal and staff writer for Hallmark Cards, Inc. Young music fans may be more familiar with Cosgrove's persona as beloved kid-rocker "Mr. Stinky Feet." In 2020, his music was streamed more than one million times on Spotify alone. Cosgrove lives in Kansas City with his wife and two daughters.