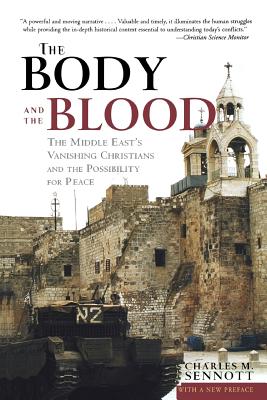 The Body and the Blood
The Middle East's Vanishing Christians and the Possibility for Peace
Paperback

* Individual store prices may vary.
Description
As the Middle East has gone up in flames, no image so captured the clash of cultures as did the siege at the Church of the Nativity, where Christian monks were trapped inside the fortress-like church, as Palestinian gunmen faced off against the Israeli military for five weeks. As Muslim and Jew battled for control, the Christians were caught in the crossfire: endangered and largely forgotten, victims of somebody else's war. In The Body and the Blood, Charles M. Sennott examines the dwindling Christian communities of the modern Middle East in search of answers to the following questions: Why is Christianity dying out in the land where it began? And what are the consequences, not only for the future of Christianity but for the Middle East itself? From Israel to Lebanon to Egypt to Jordan to the ancient cities of the West Bank, Sennott finds that the themes resonating today are the same as those that convulsed the region at the time of Christ. His frontline reporting is powerful and provocative, as he shines a new light on the Middle East.

PublicAffairs, 9781586481650, 512pp.
Publication Date: December 26, 2002
About the Author
Charles M. Sennott is the European Bureau Chief of the Boston Globe. Through sixteen years as a journalist he has covered the Persian Gulf War, the civil conflict in Northern Ireland, wars in Latin America and Afghanistan, the World Trade Center bombing, and the standoff at Waco. In 1998 George Magazine named Sennott one of the top ten journalists in America; Boston Magazine has named him the best reporter in Boston. A Massachusetts native, Sennott and his family live in London.