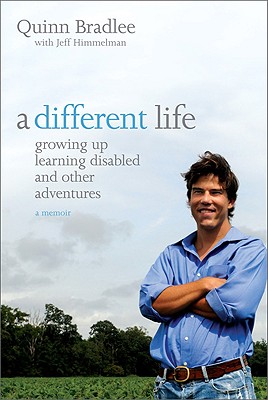 A Different Life: Growing Up Learning Disabled and Other Adventures (Hardcover)
Growing Up Learning Disabled and Other Adventures
PublicAffairs, 9781586481896, 240pp.
Publication Date: March 1, 2009
* Individual store prices may vary.
or
Not Currently Available for Direct Purchase
Description
A frank, funny, inspiring memoir of growing up with developmental and learning disabilities—and famously accomplished parents
About the Author
Quinn Bradlee attended Landmark College, American University, and the New York Film Academy. He has made a series of short documentary films about children with learning disabilities and rare genetic syndromes, and he has launched a website to create a community for LD kids and their families. He lives in Washington, D.C.www.friendsofquinn.comJeff Himmelman assisted Bob Woodward on Maestro and Tim Russert on Big Russ and Me. He has worked on other book projects as an editor and author. His reporting and writing with Woodward helped The Washington Post win the Pulitzer Prize for its post-9/11 coverage. He lives in Washington, D.C.
Praise For A Different Life: Growing Up Learning Disabled and Other Adventures…
Kate and Jim Lehrer
"A Different Life is a marvel--a stunning rocket of honesty about growing up learning disabled. As Quinn explains his frustrations, dreams, set-back and triumphs, he also explores with humor and sensitivity the difficulties in even a loving family's dynamic of dealing with their son. The portrait that unfolds is not so unlike that of many a family -- his father loving but firm and wanting to fit him for the world and a mother who does everything in her power to protect him from the emotional and physical suffering he often endures. Yet through the heartbreak shines Quinn's hopefulness and kindness and spills onto us all. This book is for everyone."

Barbara Kantrowitz, The Daily Beast, 3/31
"Bradlee is, at times, funny, mordant, surprisingly perceptive and disturbingly naïve…. it's clear that even enormous privilege did not protect him from the profound loneliness of being different."
 
Liz Smith, www.Wowowow.com, 3/31
"You'll be hearing the name Quinn Bradlee a lot now that this son of Sally Quinn and Ben Bradlee of Washington media fame has finished A Different Life: Growing Up Learning Disabled and Other Adventures."

Kate Tuttle, Washington Post
"Bradlee's book brings a bracing honesty to the tough stuff he's faced, and a sweet enthusiasm toward the things that make him happy, from surfing to his childhood dog. He doesn't sugarcoat how difficult difference can be, but there's no pity here, and no complaint."

ADDitutde Magazine
"A rare peek into the beliefs, feelings, and experiences of this young man with differing abilities, who just wants what the rest of us want out of life--work that he enjoys and is good at, and reciprocal relationships with a partner, good friends, and a wider social network."
Advertisement