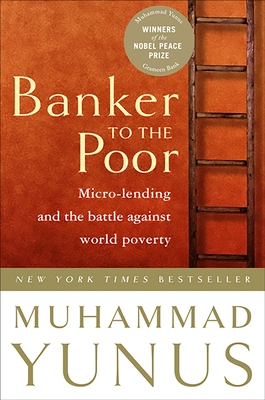 Banker To The Poor
Micro-Lending and the Battle Against World Poverty
Paperback

* Individual store prices may vary.
Description
The inspirational story of how Nobel Prize winner Muhammad Yunus invented microcredit, founded the Grameen Bank, and transformed the fortunes of millions of poor people around the world.

Muhammad Yunus was a professor of economics in Bangladesh, who realized that the most impoverished members of his community were systematically neglected by the banking system -- no one would loan them any money. Yunus conceived of a new form of banking -- microcredit -- that would offer very small loans to the poorest people without collateral, and teach them how to manage and use their loans to create successful small businesses. He founded Grameen Bank based on the belief that credit is a basic human right, not the privilege of a fortunate few, and it now provides $24 billion of micro-loans to more than nine million families. Ninety-seven percent of its clients are women, and repayment rates are over 90 percent. Outside of Bangladesh, micro-lending programs inspired by Grameen have blossomed, and serve hundreds of millions of people around the world.

The definitive history of micro-credit direct from the man that conceived of it, Banker to the Poor is the moving story of someone who dreamed of changing the world -- and did.
Praise For Banker To The Poor: Micro-Lending and the Battle Against World Poverty…
"By giving poor people the power to help themselves, Dr. Yunus has offered them something far more valuable than a plate of food - security in its most fundamental form."—President Jimmy Carter

"[Yunus's] ideas have already had a great impact on the Third World, and ... hearing his appeal for a 'poverty-free world' from the source itself can be as stirring as that all-American myth of bootstrap success."—Washington Post

"I only wish every nation shared Dr. Yunus's and the Grameen Bank's appreciation of the vital role that women play in the economic, social, and political life of our societies."—Hillary Clinton

"Muhammad Yunus is a practical visionary who has improved the lives of millions of people in his native Bangladesh and elsewhere in the world. Banker to the Poor [is] well-reasoned yet passionate."—Los Angeles Times

"A fascinating and compelling account by someone who decided to make a difference, and did."—CHOICE
PublicAffairs, 9781586481988, 312pp.
Publication Date: October 16, 2003
About the Author
Muhammad Yunus is the founder of Grameen Bank and more than fifty other companies in Bangladesh. He is widely known as both the father of microcredit and of the social business movement. In 2006, Professor Yunus and Grameen Bank were jointly awarded the Nobel Peace Prize. He is one of only seven individuals to have received the Nobel Peace Prize, the United States Presidential Medal of Freedom, and the United States Congressional Gold Medal. Yunus is the recipient of fifty-five honorary degrees from universities in twenty countries, and has received 112 awards from twenty-six countries, including state honors from ten countries.