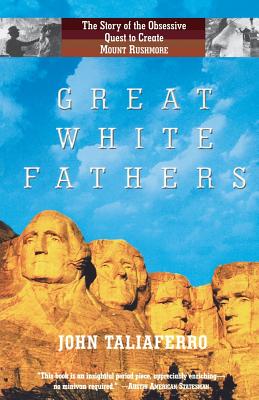 Great White Fathers (Paperback)
The Story of the Obsessive Quest to Create Mount Rushmore
PublicAffairs, 9781586482053, 472pp.
Publication Date: January 1, 2004
* Individual store prices may vary.
Description
Gutzon Borglum, the sculptor of Mount Rushmore National Memorial, had an Ahab-like obsession with Colossalism-a scale that matched his ego and the era. He learned how to be a celebrity from Auguste Rodin, how to be a political bully from Teddy Roosevelt. He ran with the Ku Klux Klan and mingled with the rich and famous from Wall Street to Washington, many of whom became his clients and/or subjects. Mount Rushmore was to be his crowning achievement, the newest wonder of the world. But what began as a personal dream had to be bailed out by the federal government, a compromise that nearly drove Borglum mad. Nor could Borglum control how his masterpiece would be received. Or its controversial impact on the remote Black Hills of South Dakota. Great White Fathers proves that the best American stories are not simple; they are complex and contradictory, at times humorous, at other times tragic. This is the history of public monuments from ancient times to modern, and of the evolution of an icon. It is at once the biography of a man and the biography of a place, told through travelogue, interviews, and exhaustive investigation of the unusual records that one odd American visionary left behind.
About the Author
John Taliaferro is a former senior editor at Newsweek and the author of two acclaimed biographies, Charles M. Russell: The Life and Legend of America's Cowboy Artists and Tarzan Forever: The Life of Edgar Rice Burroughs. He lives in Austin, Texas and Pray, Montana.