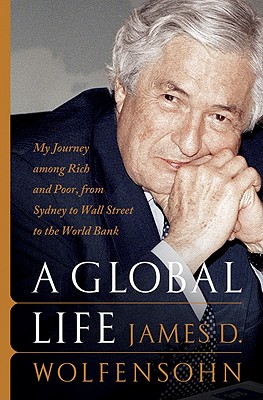 A Global Life
My Journey Among Rich and Poor, from Sydney to Wall Street to the World Bank
Hardcover

* Individual store prices may vary.
Description
As president of the World Bank for a decade, James Wolfensohn tackled world poverty with a passion and energy that made him a uniquely important figure in a fundamental arena of change. Using a lifetime of experience in the banking sector, he carved a distinct path in Asia, Africa, Latin America, and Europe for the institution that serves as the major lender to the world's poor.

In A Global Life, Wolfensohn tells his astonishing life story in his own words. A man of surpassing imagination and drive, he became an Olympic fencer and a prominent banker in London and New York. An Australian, he navigated Wall Street with uncommon skill. Chairman of Carnegie Hall and the Kennedy Center for many years, he is also an amateur cellist. But it was his tenure at the World Bank that made him an international force. While at the helm of this controversial institution, Wolfensohn motivated, schemed, charmed, and bullied all the constituencies at his command to broaden the distribution of the world's wealth. Now he bluntly assesses his successes and failures, reflecting on the causes of continuing poverty.

Much more than a business story, this is a deeply reflective account of a fascinating career and personality.
Praise For A Global Life: My Journey Among Rich and Poor, from Sydney to Wall Street to the World Bank…
Kirkus, August 15, 2010
"The author's candor … is refreshing, as is his frank assessment of his own strengths and shortcomings…. An often engaging memoir that is especially strong in its insights into global poverty."
Kofi A. Annan
"A Global Life is an eloquent and moving memoir of one man's journey to make a difference in the world. In his typically candid and refreshing style, Jim Wolfensohn describes the milestones in his life which led him to believe that unless we tackle the core issues of development and poverty, we will not create a peaceful world for our children. This is a book that will inspire all those who see the need for change in this world, and wish to make a contribution."
Michael Beschloss
"Jim Wolfensohn is not only a hero to the world's poor, but a preeminent global leader in politics, philanthropy, business and finance, the arts, international security, and even sports. He is a force of nature; there is no one else like him; and this elegant and absorbing book gives us the inside story of how he did it all. Anyone who seeks to understand the global history of the last half-century should be sure to read it."
Vartan Gregorian
—
-
PublicAffairs, 9781586482558, 480pp.
Publication Date: October 12, 2010
About the Author
James D. Wolfensohn was president of the World Bank from 1995 to 2005. He and his wife, Elaine, have three children.