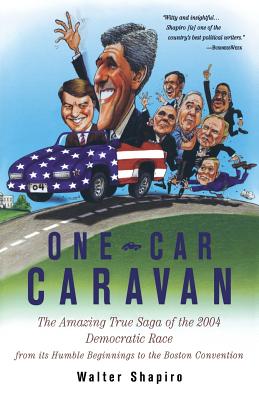 One-Car Caravan
On The Road With The 2004 Democrats Before America Tunes In
Paperback

* Individual store prices may vary.
Description
By the time most Americans see the presidential candidates on the campaign trail, they are practiced performers surrounded by a platoon of staffers and a brigade of reporters. But on their initial forays into Iowa and New Hampshire in 2002 and early 2003, their entourages were decidedly unpresidential--just an aide or two, perhaps a local reporter, and the candidate himself. Their motorcades were literally one-car caravans; their campaign stops, small gatherings in living rooms. The national media only intermittently follow the candidates as they struggle to define themselves, work out the kinks in their message and refine their personas. But Walter Shapiro did.

One-Car Caravan is Shapiro's revealing account of the humble roots of the current presidential campaign, and he provides a telling picture of the 2004 Democratic contenders in their metaphorical boxers and briefs. He shows us John Kerry, Dick Gephardt, Joe Lieberman, John Edwards, Howard Dean, and the others with their hair down, their ties askew, and their foibles bared. It's not pretty to watch a candidate who dreams of flying on Air Force One bump his head on a luggage bin on a small commuter jet, but it can be pretty funny.
PublicAffairs, 9781586482756, 272pp.
Publication Date: September 29, 2004
About the Author
Walter Shapiro is the political columnist for USA Today. In his thirty-year career covering politics, he has been a reporter for Esquire, Time, Newsweek, the Washington Post, and the Washington Monthly, and he is also a standup comic who performs regularly in New York. He and his wife, the journalist Meryl Gordon, live in New York City.