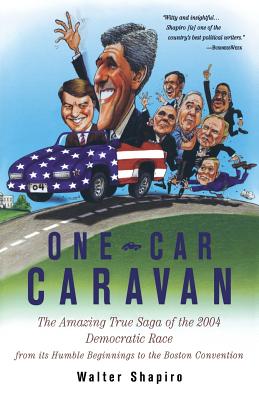 One-Car Caravan: The Amazing True Saga of the 2004 Democratic Race from Its Humble Beginnings to the Boston Convention (Paperback)
The Amazing True Saga of the 2004 Democratic Race from Its Humble Beginnings to the Boston Convention
PublicAffairs, 9781586482756, 254pp.
Publication Date: September 8, 2004
Description
These days, John Kerry is swaddled in political bubble wrap, surrounded by Secret Service agents and stalked by a media army. But Kerry wasn't always cordoned off. Back when candidates traveled with a lone aide, it was possible to obtain a revealing portrait of Kerry, free of the hurly-burly of vast entourages. That's what USA Today political columnist Walter Shapiro did as he hit the campaign trail early to write One-Car Caravan, his revealing and witty behind-the-scenes account of the race for the 2004 nomination. Shapiro portrays all the Democratic dreamers at that innocent moment when anything seemed possible, even the White House itself. He captures the heady rise of Howard Dean, as well as the relentless optimism of John Edwards that carried him so far in his break-out appearance on the national stage. One-Car Caravan also unveils the secret strategies and the closed-door fund-raisers that are integral parts of that little-chronicled phase of politics known as the "Invisible Primary." Full of incisive observations of the candidates and trenchant analysis of the political process, One-Car Caravan is now updated with several additional chapters to extend the Democratic saga to its dramatic conclusion. As wry as it is riveting, Shapiro's journey from a "One-Car Caravan" to the Convention offers a refreshing take on how modern presidents are really made.
About the Author
Walter Shapiro is the political columnist for USA Today. In his thirty-year career covering politics, he has been a reporter for Esquire, Time, Newsweek, The Washington Post, and The Washington Monthly, and he is also a standup comic who performs regularly in New York. He and his wife, the journalist Meryl Gordon, live in New York City.
Advertisement