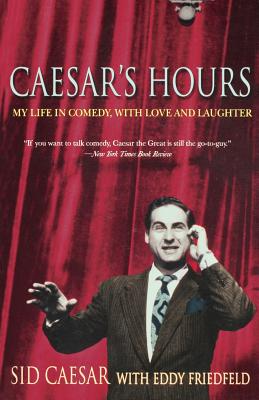 Caesar's Hours (Paperback)
My Life In Comedy, With Love and Laughter
PublicAffairs, 9781586482831, 288pp.
Publication Date: January 3, 2005
* Individual store prices may vary.
Description
It is no exaggeration to say that without Sid Caesar, comedy in America would have been a lot less funny. He was the star and guiding force behind Your Show of Shows and Caesar's Hour, two of the most innovative programs in the Golden Age of Television, and the writers and stars of those shows went on to create the plays, movies, and sitcoms that we now think of as classic American comedy. So many of our greatest comedy writers -- Carl Reiner, Mel Brooks, Neil Simon, Larry Gelbart, Woody Allen -- were part of Sid Caesar's creative troupe. Sid was a master not only of comedic performance, but also of developing characters that the audience could relate to, finding the humor in ordinary situations rather than through vaudeville-type gags. His was a comedy truly drawn from the human condition.

Caesar's Hours is Sid Caesar 's artistic autobiography, his account of how these great routines were fashioned and performed, and the interactions that gave birth to them. He takes us inside the famed writers' room, the rehearsal studios, and onto the stage itself, where some of the funniest moments in television history came to life. To read his book is to learn why his intelligent and sensitive brand of humor resonates so much with us, even half a century later.
About the Author
Sid Caesar was born in Yonkers, New York, in 1922 and began his career in comedy while a musician in the Catskills. He was a film and stage star by his mid-twenties, and in 1950 came the debut of Your Show of Shows, followed later in the decade by Caesar's Hour. Caesar has also starred in numerous Broadway shows and Hollywood movies.

Eddy Friedfeld is an entertainment journalist and film critic. He lives in New York City.