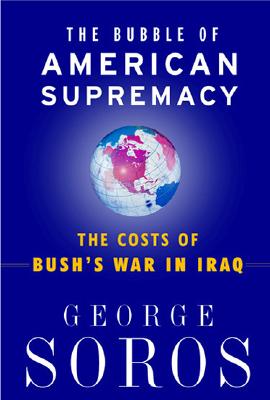 The Bubble Of American Supremacy: The Costs Of Bush's War In Iraq (Paperback)
The Costs Of Bush's War In Iraq
PublicAffairs, 9781586482923, 224pp.
Publication Date: October 1, 2004
* Individual store prices may vary.
or
Not Currently Available for Direct Purchase
Description
Long known as "the world's only private citizen with a foreign policy," George Soros combines his razor-sharp sense of economic trends with his passionate advocacy for open societies and decency in world politics to come up with a workable, and severely critical, analysis of the Bush administration's overreaching, militaristic foreign policy.
Soros believes that this administration's plans abroad come from the same sort of "bubble" psychology that afflicted our markets in the late 1990s. They have used a real fact, our overwhelming military supremacy, to create a deluded worldview, that might makes right and that "you're either with us or against us," in the same way that the recent boom used a real fact, the growth in technology, to lead to a delusion, the "new economy."
Like the best of the books that have responded quickly to world events, "The Bubble of American Supremacy" has a clear, intriguing, comprehensive thesis that makes necessary, and compelling, order of our seemingly disordered world.

About the Author
George Soros heads Soros Fund Management and is the founder of a global network of foundations dedicated to supporting open societies. He is the author of several bestselling books, including The Crisis of Global Capitalism, Open Society, and George Soros on Globalization.
Advertisement