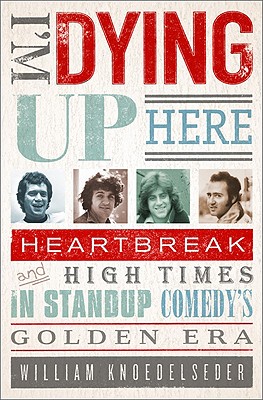 I'm Dying Up Here: Heartbreak and High Times in Stand-up Comedy's Golden Era (Hardcover)
Heartbreak and High Times in Stand-up Comedy's Golden Era
PublicAffairs, 9781586483173, 304pp.
Publication Date: August 1, 2009
* Individual store prices may vary.
or
Not Currently Available for Direct Purchase
Description
A little-known story of the brief, shining moment when comedy's stars-to-be were starving artists and friends in 1970s L.A.—and of the strike that tore them apart
About the Author
William Knoedelseder has been a journalist with The Los Angeles Times, executive producer of Fox Entertainment News and of the Philadelphia Inquirer's television news program "Inquirer News Tonight," and vice president of news at USA Broadcasting. He is the author of Stiffed: A True Story of MCA, The Music Business, and the Mafia, and In Eddie's Name. Born in St. Louis, Missouri, he lives near Los Angeles.
Praise For I'm Dying Up Here: Heartbreak and High Times in Stand-up Comedy's Golden Era…
Publishers Weekly, STARRED review
"Knoedelseder skillfully layers powerful dramatic details, and readers will shelve the book alongside those other key classics on comedy."

Shelf Awareness
"A revealing and entertaining look at the 1970s Los Angeles comedy scene and the labor dispute that ended its most glorious era."
Booklist
"Fact-packed, highly readable history… peppered with plenty of portraits of struggling young comics, some destined for national fame, others headed to obscurity and, in a few cases, early death."
Buffalo News
"One of the most eye-opening and informative books ever written about standup comedy…One of the books of the year for any student of American television and pop culture…A little-known story has now been told very well in perfect context. And when you finish the book you may feel as if you finally understand every comedian you see on TV for the first time."
Daily Variety
"A lively new book…Knoedelseder reminds us that comedy is a dicey calling."

New York Times Book Review
"Illuminating"

Irish Times
"Knoedelseder, who was around in those days as a reporter on the Los Angeles Times, interweaves the fascinating stories of the tragic, unknown Lubetkin and the performers who were to become household names, set against the basic contradictions of working the Comedy Store."

Dallas Morning News
"Written with a journalist's strong narrative sense, I'm Dying Up Here chronicles the tight-knit community of artists who cracked open the world of funny entertainment and the event that shattered their camaraderie...Knoedelseder's ability to sniff out the human stories behind the headlines is what makes this rowdy chapter in stand-up such a good read. It's a bittersweet tale told with humor and economy."

DigitalCity.com
"I'm Dying Up Here lays bare the bad and the ugly of Hollywood; from what good there was, like primordial muck, emerged the funniest guys and gals around."
Coverage from NPR
Advertisement