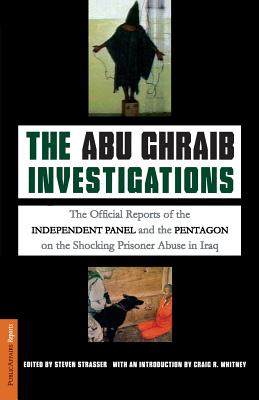 The Abu Ghraib Investigations
The Official Independent Panel and Pentagon Reports on the Shocking Prisoner Abuse in Iraq
Paperback

* Individual store prices may vary.
Description
In the fall of 2003, Iraqi prisoners were beaten, stripped naked, confined in small spaces, tortured, sexually humiliated, and abused by U.S. personnel at Abu Ghraib, a sprawling prison complex near Baghdad. The abuse was kept hidden by the U.S. military until photographs of the victims and their smiling tormentors were released to a stunned American public. Several investigations into the scandal were launched. Their assessment of the "brutality and purposeless sadism" at Abu Ghraib is shocking.

The Abu Ghraib Investigations reveals the awful truth about what happened at Abu Ghraib, who is responsible, and what can be done about it. It includes:

A lead essay by Craig R. Whitney of the New York Times, putting the scandal in historical and political context
Excerpts from the official Abu Ghraib Report, commissioned by Donald Rumsfeld, analyzing the events leading up to the abuses and their consequences

Excerpts from the Jones/Fay Investigation, commissioned by the Pentagon, detailing specific abuses in graphic detail

Photographs that led to the investigations of the abuses

Key documents, including official military interrogation policies and the infamous Presidential memo of February 7, 2002
PublicAffairs, 9781586483197, 256pp.
Publication Date: October 14, 2004
About the Author
Former Newsweek editor Steven Strasser has combed through the extensive investigative documents available and extracted the most revelatory information about the abuses -- the real extent of the crimes, the fundamental flaws in the military's detention and interrogation techniques, the egregious failures in command and leadership, and the consequences for the future of the U.S. military and the war in Iraq.

In his lead essay, Craig R. Whitney of the New York Times places the Abu Ghraib prison abuse scandal into an historical context, explaining how the crimes could have happened, and exploring why they have rattled our nation so deeply.