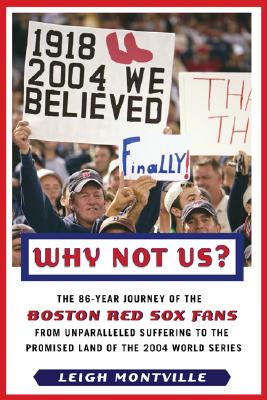 Why Not Us?: The 86-year Journey of the Boston Red Sox Fans From Unparalleled Suffering to the Promised Land of the 2004 World S (Hardcover)
The 86-year Journey of the Boston Red Sox Fans From Unparalleled Suffering to the Promised Land of the 2004 World S
PublicAffairs, 9781586483333, 192pp.
Publication Date: January 1, 2005
* Individual store prices may vary.
or
Not Currently Available for Direct Purchase
Description
Generation after generation watched and hoped and prayed for victory. And generation after generation turned away frustrated and disappointed- 1946 (when the Sox lost the World Series in 7 games), '48 (lost a one game play-off to Cleveland), '49 (heartbreak to the Yankees), '67 (again, lost the Series in 7), '75 (and again, lost the Series in 7), Bucky in '78, Buckner in '86, Boone in 2003. Yet every spring the fans flocked back, hopeful again. The losing, the angst, the self-flagellation became so routine that it even developed marketing names. The suffering was called "The Curse of the Bambino". The sufferers were called "Red Sox Nation" - the ultimate underdogs. Would it ever end?
And then it did.
Why Not Us? is about what the Red Sox's amazing victory in the 2004 World Series meant to the fans. It's about how it felt to be a Red Sox fan - not only at 20 minutes to midnight on October 27, 2004, but decades before. Leigh Montville, best-selling author ofTed WilliamsandAt the Altar of Speed, has interviewed dozens of fans: friends, friends of friends, old sportswriters, ball-players, public figures, and plain folk. Here are their stories-bittersweet stories of passion and pain, eternal hope and crushing despair, the seemingly endless agony and the strange ecstasy of being a Red Sox fan.
About the Author
Leigh Montville, former sports columnist at the Boston Globe and former senior writer at Sports Illustrated, is the best-selling author of Ted Williams: The Biography of an American Hero and At the Altar of Speed: The Fast Life and Tragic Death of Dale Earnhardt. He lives near Fenway Park.
Advertisement