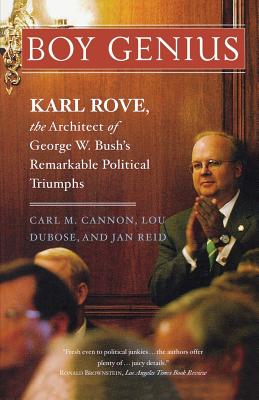 Boy Genius
Karl Rove, the Architect of George W. Bush's Remarkable Political Triumphs
Paperback

* Individual store prices may vary.
Description
The Washington Post Bestseller - Now Updated with Five New Chapters and a New Epilogue

Unlike President George. W. Bush, Karl Rove, his chief political adviser, is rarely "misunderestimated." Many of the president's opponents see Rove's hand in everything the president does. His friends, and the president himself, are just thankful he's on their side, and always has been. From their earliest days in Texas, Rove saw and tapped the potential of George W. Bush. "Political hacks like me wait a lifetime for a guy like this to come along," Rove said of the future president.

The authors of Boy Genius fill readers in on the man, his methods, and his plans for the Republican majority for a fascinating, entertaining look at the Man Who Would be Kingmaker, an investigation that debunks myths as it reveals facts, and the story of exactly how American politics works now. From allegations of bugging his own office back in Texas, to shadowy dealings with Swift Boat veterans in the last election, Rove has played politics all the way to the highest levels, and though it sometimes isn't pretty, it works.
PublicAffairs, 9781586483364, 400pp.
Publication Date: March 2, 2005
About the Author
Carl M. Cannon is the Washington Bureau Chief of RealClearPolitics and a past recipient of the Gerald R. Ford Journalism Prize for Distinguished Reporting and the Aldo Beckman Award, the two most prestigious awards for White House coverage. Previous positions include Executive Editor of Politics Daily, Washington Bureau Chief for Reader's Digest, White House correspondent for both the Baltimore Sun and National Journal, a fellow-in-residence at Harvard University's Institute of Politics, and a past president of the White House Correspondents' Association.

He is the author of The Pursuit of Happiness in Times of War, co-author of Reagan's Disciple: George W. Bush's Troubled Quest for a Presidential Legacy with Lou Cannon, and Circle of Greed with Patrick Dillon. Carl was also a member of the San Jose Mercury-News staff awarded a Pulitzer Prize for the paper's coverage of the 1989 Loma Prieta earthquake.

Lou Dubose is the co-author, with Molly Ivins, of Shrub: The Short But Happy Political Life of George W. Bush. He was the editor of the Texas Observer for eleven years and worked briefly as politics editor of the Austin Chronicle.

Jan Reid is an award-winning novelist and magazine journalist. His most recent book is a much-praised memoir of Texas and Mexico, The Bullet Meant for Me. He is a veteran observer and analyst of Texas politics.