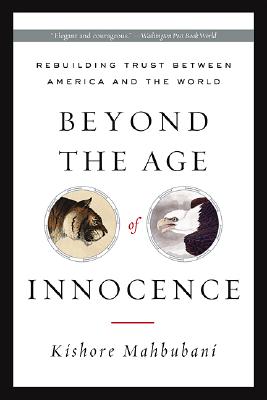 Beyond the Age of Innocence (Paperback)
Rebuilding Trust Between America and the World
PublicAffairs, 9781586483791, 256pp.
Publication Date: March 28, 2006
* Individual store prices may vary.
Description
After publishing articles in leading American journals for over two decades, Kishore Mahbubani was described as "an Asian Toynbee, preoccupied with the rise and fall of civilizations" by The Economist. Trained in philosophy in North America and Asia, and well-experienced in real politik as a diplomat on the world stage, Mahbubani has unusual insight into America's ever more troubled relationship with the rest of the world.

In Beyond the Age of Innocence Mahbubani reveals to us the America that Asia and the rest of the world see. We are a country that has given hope to billions by creating a society where destiny is not determined at birth. After the Second World War, we created a global order which allowed many nations to flourish. But when the Cold War ended, America made a terrible mistake. We started behaving like a normal country, ignoring the plight of others, indifferent to the consequences of our decisions on others. America was imprudent in its policy towards two large masses of mankind: the Chinese and Muslim populations. Guantanamo damaged our moral authority, but Abu Ghraib, paradoxically, may have demonstrated the accountability of American institutions. Still, disillusionment with America has spread to all corners.

To allow any lasting gap between America and the world, Mahbubani argues, would be a colossal strategic mistake for America and a huge loss to the world. But there is still time for the US to change course; and in this thoughtprovoking, visionary book, Mahbubani shows us how.
About the Author
A student of philosophy and history,
Kishore Mahbubani
has had the good fortune of enjoying a career in government and in writing on public affairs. With the Singapore Foreign Service from 1971 to 2004, he had postings in Cambodia (where he served during the war in 1973-74), Malaysia and Washington DC, and he served two stints as Singapore Ambassador to the UN. He served as President of the UN Security Council in Jan 2001 and May 2002. He was Permanent Secretary at the Foreign Ministry from 1993 to 1998.
In the world of ideas, he has spoken and published articles in many places. His first article was published in Foreign Affairs in 1983; it has been followed by articles and op-ed pieces in a variety of journals and newspapers. For his writings and other contributions, he has been profiled in the Economist and in Time Magazine and his writings have been widely cited and quoted. He is the author of "Can Asians Think?" (published in Singapore, Canada, US, Mexico, India and forthcoming in China).
His experience in public service and in the world of ideas has come to serve him well in his current appointment as the first Dean of the Lee Kuan Yew School of Public Policy at the National University of Singapore. Concurrently, Mr Mahbubani continues to serve in an advisory capacity to various institutions in Singapore and North America.
Mr Mahbubani was awarded the President's Scholarship in 1967. He graduated with a First Class honors degree in Philosophy from the University of Singapore in 1971. From Dalhousie University in Canada he received a Masters degree in Philosophy in 1976 and an honorary doctorate in 1995. He also spent a year as a fellow at the Center for International Affairs at Harvard University, from 1991 to 1992.
He was awarded the Public Administration Medal (Gold) by the Singapore Government in 1998. He received the Foreign Policy Association Medal in New York in June 2004; its citation described him as "A gifted diplomat, a student of history and philosophy, a provocative writer and an intuitive thinker."
or
Not Currently Available for Direct Purchase