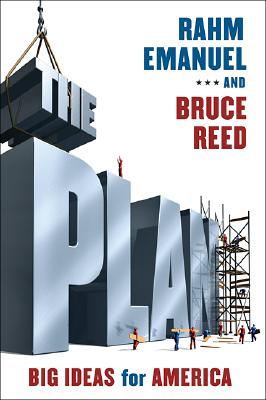 The Plan: Big Ideas for America (Hardcover)
Big Ideas for America
PublicAffairs, 9781586484125, 224pp.
Publication Date: August 1, 2006
* Individual store prices may vary.
or
Not Currently Available for Direct Purchase
Description
The Plan offers a bold vision of what America can be. It shows the way for both parties to move beyond the old political arguments and make progress for the American people. And it offers an innovative agenda for America - with ideas that address the nation's most pressing challenges by doing more for Americans and asking Americans to do more for their country in return. Each of these ideas offers a clean break with the status quo, yet all are positive, practical, and can be put into action right away. Built on the authors' firm beliefs that politicians owe the people real answers, that citizenship is a responsibility, not an entitlement program, and that the Democratic Party succeeds when America succeeds, the highly anticipated Plan delivers, challenges, and inspires.
About the Author
Rahm Emanuel was elected to the United States Congress from the 5th District of Illinois in 2002. He is also chairman of the Democratic Congressional Campaign Committee.Bruce Reed writes a daily political column for Slate and is the editor-in-chief of Blueprint, the leading magazine of new Democratic ideas. In 1992, Reed helped write Putting People First, the bestselling book on Clinton's agenda. He is President of the Democratic Leadership Council.Both Rahm Emanuel and Bruce Reed served as top aides in Bill Clinton's 1992 and 1996 campaigns and held top policy jobs in the White House.
Advertisement