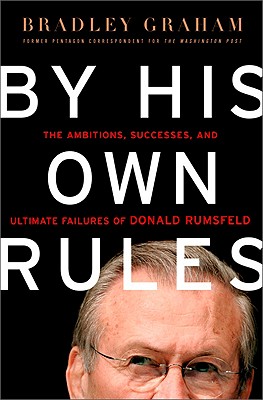 By His Own Rules (Hardcover)
The Ambitions, Successes, and Ultimate Failures of Donald Rumsfeld
PublicAffairs, 9781586484217, 832pp.
Publication Date: June 1, 2009
Other Editions of This Title:
Paperback (6/22/2010)
Paperback, Large Print, Large Print (5/1/2010)
Paperback, Large Print, Large Print (9/1/2010)
* Individual store prices may vary.
Description
Once considered among the best and brightest of his generation, Donald Rumsfeld was exceptionally prepared by successful careers in politics and business to assume the Pentagon's top job in 2001. Yet six years later, he left office as the most controversial Defense Secretary since Robert McNamara, widely criticized for his management of the Iraq war and for his difficult relationships with Congress, administration colleagues, and military officers. Was he really the arrogant, errant, over-controlling Pentagon leader frequently portrayed--or as his supporters contend, a brilliant, hard-charging visionary caught in a whirl of polarized Washington politics, dysfunctional federal bureaucracy, and bad luck?
Bradley Graham, a longtime "Washington Post" reporter who closely covered Rumsfeld's challenging tenure at the Pentagon, offers an insightful biography of a complex personality. In the tradition of Karen DeYoung's "Soldier" and Bart Gellman's "Angler," "By His Own Rules" is a layered and revealing portrait of a man whose impact on U.S. national security affairs will long outlive him.
About the Author
Bradley Graham has spent more than twenty-five years at The Washington Post in various reporting and editing assignments focused on military and foreign affairs. The author of Hit to Kill: The New Battle Over Shielding America From Missile Attack, he lives in Washington, D.C.
Praise For By His Own Rules: The Ambitions, Successes, and Ultimate Failures of Donald Rumsfeld…
Thomas E. Ricks, Pulitzer-prize winning journalist and author of The Gamble and Fiasco
"Donald Rumsfeld is one of the most interesting and troubling figures of the Bush era, and Bradley Graham is the perfect writer to explore his reign at the Pentagon. Graham, a veteran military reporter, is scrupulously fair in weighing Rumsfeld's strengths and weaknesses. This is likely to be the definitive book on Rumsfeld, one that historians will turn to a century from now."

LA Times
"Among the handful of books likely to stand above mere topicality…What's particularly remarkable about the qualities Graham brings to this project is the extraordinary fair-mindedness with which he approaches his subject. He does not stint on analysis, but Rumsfeld's considerable virtues—flawless integrity and an unshakable lifelong commitment to civil rights, for example—are treated right alongside his overweening flaws: arrogance, a bullying intellect, tireless self-promotion. The result is an engrossing biography; its thorough, capacious reporting leaves those value judgments not absolutely required by the weight of evidence to the reader. There's a sturdy, old-fashioned quality to Graham's approach to his subject and this material, and the match works brilliantly. This is, in other words, a major—and highly important—American political biography."

The Washington Post
"In this meticulously researched and compelling book, veteran Washington Post reporter Bradley Graham acknowledges these contributors to the national-security travails of the Bush years, but he highlights another as well: the secretary of defense's unwavering commitment to military transformation, his vision of a leaner, more lethal Department of Defense."

Politico
"Donald Rumsfeld has been excoriated by both Democrats and Republicans for his handling of the Iraq war. This biography reveals a more nuanced picture than the conventional wisdom would suggest."

Jamie Fly, executive director of The Foreign Policy Initiative
"Washington Post reporter Bradley Graham chronicles the full span of Rumsfeld's remarkable career in a surprisingly balanced and fair new biography….Graham does an excellent job of tracing the man's meteoric rise in Washington, relaying insights from friends and associates about the famed Rumsfeld management style, which some call one of his biggest faults. —

Tom Mahnken, ForeignPolicy.com
"Journalists have produced many caricatures of Donald Rumsfeld, but no portraits. Until now, that is. Bradley Graham's By His Own Rules (PublicAffairs) offers a nuanced portrayal of the former defense secretary that is likely to serve as the definitive work for years to come."

Bob Woodward, author of The War Within, State of Denial, Plan of Attack, and Bush at War
"The first real, genuine, and mature biography of Rumsfeld—told with balance, empathy, and a toughness that Rumsfeld should appreciate. If anyone doubts that personality impacts and infects policy, read this excellent book. It is both fair-minded and blistering."

or
Not Currently Available for Direct Purchase