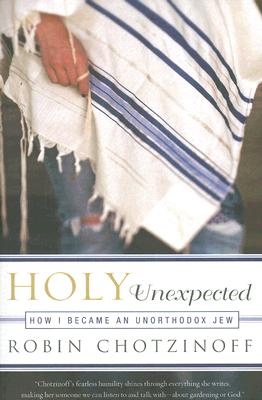 Holy Unexpected: How I Became an Unorthodox Jew (Paperback)
How I Became an Unorthodox Jew
PublicAffairs, 9781586485023, 240pp.
Publication Date: March 1, 2008
* Individual store prices may vary.
or
Not Currently Available for Direct Purchase
Description
Raised a born-again agnostic, Robin Chotzinoff had no interest in religion--and practically no experience in it-- until she turned forty. When she suddenly discovered a belief in God, she had no idea what to do next.
In Holy Unexpected she describes her journey from a privileged New York childhood through years of unhappiness, drugs, and drift. She investigates what she believed in before she believed in God (the healing power of junk food, music, psychopharmacology), and how a happy marriage impelled her toward a higher power. When she discovers that Judaism embraces arguing with God, hot sex, and acts as opposed to beliefs, she embarks on a journey to reconstruct her Jewish heritage and forge a relationship with her faith.
Robin wrestles with the meaning of Torah, discovers how to keep the Sabbath and still go to Walmart for duct tape, and learns to pray while snowboarding. But her real education in the meaning of Judaism occurs as she rides the ups and downs of day-to-day life, and prepares both for her bat mitzvah and for her father's death.
Writing with enormous humor and intimacy, Chotzinoff takes readers on an unexpected religious journey lit by humor and grace.
About the Author
Robin Chotzinoff is the author of People With Dirty Hands: The Passion for Gardening, and People Who Sweat. An award-winning columnist and writer at Denver's alternative weekly Westword and at The Denver Post, her writing has also appeared in Outside, The New York Times Magazine, Food and Wine, and Garden Design, among other publications. She has recently moved to Austin, Texas.
Advertisement