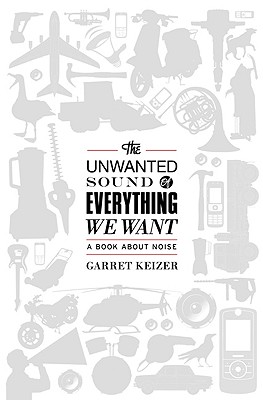 The Unwanted Sound of Everything We Want (Hardcover)
A Book About Noise
PublicAffairs, 9781586485528, 400pp.
Publication Date: May 4, 2010
Other Editions of This Title:
Paperback (3/13/2012)
* Individual store prices may vary.
Description
An acclaimed writer investigates the hidden political, social, and environmental costs of that ancient phenomenon we call noise
About the Author
Garret Keizer is a free lance writer, a contributing editor to Harper's Magazine, and a recent Guggenheim Fellow. He is the author of six books, including the critically acclaimed Help and The Enigma of Anger. His essays and poems have appeared in The Los Angeles Times, Mother Jones, The New Yorker, The Best American Essays, and The Best American Poetry. He lives with his wife in northeastern Vermont.
Praise For The Unwanted Sound of Everything We Want: A Book About Noise…
Bill McKibben
"Garret Keizer has, not for the first time, helped us look hard at something we thought we understood and see that instead it's rich, fascinating, full of political and moral and human implications. I'd say that his argument goes off like an intellectual explosion, but perhaps better in this context to summon the image of a bell, struck once in the silence. This is a book for our precise moment on earth."

Naomi Klein, author of The Shock Doctrine
"Very few writers combine thoughtfulness and rage as satisfyingly as Garret Keizer. As promised, this is not just a book about noise; it is a profound meditation on power—its painful absence and its flagrant abuse. You won't be able to hear car alarms in quite the same way again."

Ron Powers, author of Mark Twain: A Life and co-author of Flags of Our Fathers
"Every man, woman, and child who has recoiled from the obscenity of intrusive noise should read this book. Keizer, whose disputatious moral eloquence places him in the line of Sinclair and Steinbeck, shows us that noise is far from being but one more irritant of modern life. It is a symptom of deeper threats to a healthy society: amoral power, a degraded political system, a collapse of spiritual consciousness. This is a masterpiece of social reportage and—wondrously, given all its burning indictments—of decency and affirmation."

Booklist
"This engaging book explores the unforeseen (and sometimes unwanted) side effects of our inventive natures…. An enlightening look at an issue most of us ignore."

Financial Times, June 5, 2010
"In this witty and informative social history, Garret Keizer employs a study of noise to interpret and illuminate a range of global issues, from racial injustice and climate change to imperialism and torture methods."

Nature, May 2010
"Keizer is an energetic researcher and an omnivorous writer…. [He] comes across not as a dour partisan for silence but as someone who sees the right to quiet as one of many competing rights. It is a virtue of his ruminative study that it conveys the charm of a hushed library and the appeal of the ruckus outside."

Cleveland Plain Dealer, May 10, 2010
"Keizer zaps our assumptions at a merry frequency in his remarkable, thought-provoking new work, The Unwanted Sound of Everything We Want. It is pointed, often exhilarating, and as tightly written as the skin on a drum…. Viewed through Keizer's political lens, it is no accident that prisons are relentlessly noisy, that the poor live in the most degraded soundscapes, that the disabled, the very young and the very old are disproportionately vulnerable to noise…. Keizer writes incisively about 'the magnificent custom bikes' assembled yearly in Sturgis, S.D., for the 'World's Largest Motorcycle Rally' and, a few pages later, the prayer gathering by Lakota trying to protect Mato Paha, or Bear Butte, S.D., from the encroaching biker rally. Keizer lets us hear the grinding of power, yes, but also the poetry of humans seeking to be heard, including our need for quiet."

New York Times, May 18, 2010
"Shrewd…. As the effortlessly intelligent Mr. Keizer points out, noise is among the thorniest class issues of our time, and we tend to utterly ignore its meanings…. Mr. Keizer's book is rowdy and yet … subtle. It explores the social aspects of noise in our lives, and every page is packed with crackling observations. Mr. Keizer is not antinoise. Without it, the world would lack many beautiful things — not just the music of the Rolling Stones but also certain side benefits, he writes, like 'Keith Richards's incomparable smile.'"

New York Times Book Review, May 30, 2010
"[Keizer] has really wrestled with the noise question and comes away with the most to say.... What kept me engaged in Keizer's book was a succession of unexpected ideas about the links between noise, politics and technology." The Guardian, June 26, 2010"[A] thoughtfully soft-spoken and beautifully written polemic... To be read with Rage Against the Machine cranked up, but not too far, on headphones." Religion Dispatches, July 9, 2010"Garret Keizer, best known for the powerful essays he contributes to Harper's, is a passionate and pugnacious thinker with a strong aversion to concealment and cant." Daily Telegraph, July 17, 2010"Noise is a terrible problem in the modern world, and one salutes both George Prochnik and Garret Keizer for proselytizing on behalf of a bit more hush. Although they both write from the United States, the noisiest country in the world, their approaches are different and complementary… Keizer is the environmental activist, crankier and perhaps more fun."
or
Not Currently Available for Direct Purchase