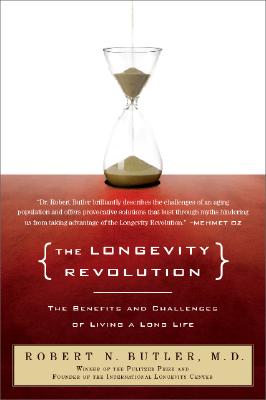 The Longevity Revolution (Hardcover)
The Benefits and Challenges of Living a Long Life
PublicAffairs, 9781586485535, 576pp.
Publication Date: March 1, 2008
Other Editions of This Title:
Paperback (5/10/2010)
* Individual store prices may vary.
Description
Pulitzer-prize winning author Dr. Robert Butler coined the term "ageism" and made "Alzheimer's" a familiar word. Now he brings his formidable knowledge and experience in aging issues to a recent and unprecedented achievement: the extension of human life expectancy by thirty years. As Butler shows, our society had not yet adapted to this change.
The U.S. has not made a research investment in aging. Only eleven medical schools out of 145 have geriatrics departments compared to England where geriatrics is the number two specialty. We have not solidified private pension plans or strengthened Social Security to ensure that people do not outlive their resources. In this urgent and ultimately optimistic book, Dr. Butler shows why and how we must re-examine our personal and societal approach to aging right now, so that the boomers and the generations that follow may have a financially secure, vigorous, and healthy final chapter life.
About the Author
Physician, gerontologist, psychiatrist, public servant and Pulitzer Prizewinning author of Why Survive, Robert N. Butler, M.D. is president and CEO of the International Longevity Center. In 1975, he became founding director of the National Institute on Aging of the National Institutes of Health, and in 1982 he founded the first department of geriatrics in a U.S. medical school at The Mount Sinai Medical Center.
Praise For The Longevity Revolution: The Benefits and Challenges of Living a Long Life…
New England Journal of Medicine
"This book has the potential to change the future of this country for the better…"
Journal of American Medicine Association, January 7, 2009
"Robert Butler must be counted as one of the princes of geriatric medicine in the United States. He has led a long and industrious career as physician, educator, medical civil servant, and, above all, champion of the elderly… Butler's book offers a clear critique of the present gerontological situation as well as some perceptive solutions."
or
Not Currently Available for Direct Purchase