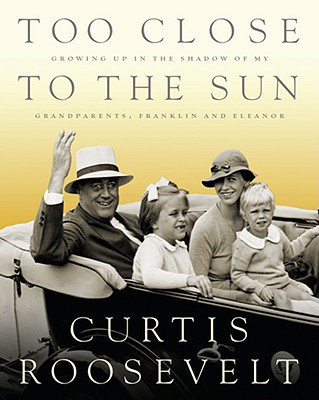 Too Close to the Sun: Growing Up in the Shadow of my Grandparents, Franklin and Eleanor (Hardcover)
Growing Up in the Shadow of my Grandparents, Franklin and Eleanor
PublicAffairs, 9781586485542, 320pp.
Publication Date: November 1, 2008
* Individual store prices may vary.
or
Not Currently Available for Direct Purchase
Description
Curtis Roosevelt was three when he and his sister, Eleanor, arrived at the White House soon after their grandfather's inauguration. The country's "First Grandchildren," a pint-sized double act, they were known to the media as "Sistie and Buzzie."
In this rich memoir, Roosevelt brings us into "the goldfish bowl," as his family called it--that glare of public scrutiny to which all presidential households must submit. He recounts his misadventures as a hapless kid in an unforgivably formal setting and describes his role as a tiny planet circling the dual suns of Franklin and Eleanor Roosevelt.
Blending self-abasement, humor, awe and affection, Too Close to the Sun is an intimate portrait of two of the most influential and inspirational figures in modern American history--and a thoughtful exploration of the emotional impact of growing up in their irresistible aura.
About the Author
Curtis Roosevelt is the second eldest child of Anna Eleanor Roosevelt and the oldest grandson of President Franklin Delano Roosevelt and Eleanor Roosevelt. In 1964, he joined the Secretariat of the United Nations, where for eighteen years he held various positions in the international civil service sector. He lives in France with his wife.
Praise For Too Close to the Sun: Growing Up in the Shadow of my Grandparents, Franklin and Eleanor…
Kirkus, October 1, 2008
"FDR's eldest grandson nostalgically recounts his childhood growing up in close proximity to his charismatic grandparents…. He captures the delight of living at the White House from the perspective of a child given access to presidential marches, receptions and afternoon teas."

Publishers Weekly, October 2, 2008
"Curtis writes affectionately and beautifully about his grandparents.… Along with relaying a rich and fascinating cornucopia of anecdotes involving family life, Curtis devotes thoughtful discussion to the complex subject of reflected fame and its impact on young people growing up as the scions of celebrity. No one alive today knew Franklin and Eleanor quite as well as Curtis, their eldest grandson, and his sister. Thus this splendid, intimate memoir represents an invaluable addition to the literature of the Roosevelt era."


USA Today, November 25, 2008
"Even as a young boy Roosevelt had a keen eye to what was going on around him, and gives us a peek behind the curtains of 1600 Pennsylvania Ave., including FDR's 'bedside breakfast meetings' where the president read the comics to his grandchildren while reviewing the day's schedule with his advisers."

St. Petersburg Times, December 30, 2008
"[Curtis Roosevelt] tells wonderful, nostalgic stories about the president and the two Mrs. Roosevelts, who at a crucial time in the national's history still made time for their grandchildren…. His was a memorable coming of age, and he brings it vividly to life in this richly illustrated memoir."
Advertisement