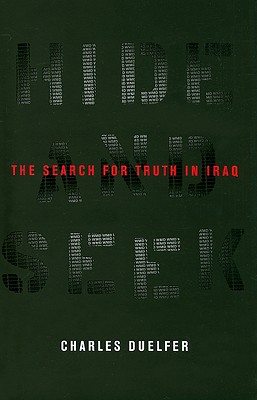 Hide and Seek: The Search for Truth in Iraq (Hardcover)
The Search for Truth in Iraq
PublicAffairs, 9781586485573, 560pp.
Publication Date: February 1, 2009
* Individual store prices may vary.
or
Not Currently Available for Direct Purchase
Description
Charles Duelfer is one of the most senior intelligence officers with on-the-ground experience to have worked in Iraq before, during, and after the Gulf War. His 2004 CIA report is widely renowned as the most authoritative account on how the world was led to believe that Saddam possessed weapons of mass destruction. But until now, Duelfer has never publicly shared his unrivaled expertise on just how the U.S.-Iraq relationship spiraled into a second war, and ultimately into chaos.
Hide and Seek is his account--based on unparalleled access to Iraqi leadership, the White House, and the CIA--of the long and tragic unraveling of the U.S. relationship with Iraq. This book sees beyond the propaganda and deceits of both sides to tell the story of the miscalculations in assessing Iraq as a threat, why Saddam responded as he did to U.S. demands, and precisely how the U.S. implemented its decision to topple Saddam's regime. No one is better able than Duelfer to see inside the mindsets of the two administrations, with their mismatched priorities, wounded pride, and dangerous ability to bluff and counterbluff.
About the Author
Charles Duelfer served as the deputy chairman of the United Nations weapons inspection organization (the UN Special Commission on Iraq--UNSCOM) from 1993 to 2000. He was also the leader of the Iraq Survey Group, which was the CIA-led team charged with the search for weapons of mass destruction in Iraq. His name is commonly given to the final CIA report of the Iraq Survey Group, the Duelfer Report. He lives near Washington, D.C.
Praise For Hide and Seek: The Search for Truth in Iraq…
Richard Clarke, former White House national security official and author of Against All Enemies
"In Hide and Seek, Charles Duelfer explains what went on inside two governments, the U.S. and Iraq, over a decade. He details how misunderstandings become a tragedy. Only Duelfer knew and met with the senior officials in both governments. This is the inside story."


Former Senator and co-Chair of the WMD Commission, Chuck Robb
"No American understood the Saddam Regime better than Charles Duelfer. In Hide and Seek, based on his personal experiences, he identifies the tragic miscalculations on both sides stemming from avoidable ignorance. Duelfer has a keen sense of history and he pulls no punches. For policy makers and analysts on Iraq, Iran and North Korea, Hide and Seek is destined to become the definitive reference. For the rest of us, it is a fascinating educational experience—and a whale of a good read!"
 

Governor Bill Richardson, former US Ambassador to the UN
"Duelfer spells out how we got into the tragedy of Iraq. He was there—in Baghdad, CIA, State Department, the White House, and the United Nations. Iraq did not need to be this bad. Read this and learn what to avoid in the future."
 

Kirkus, December 15, 2008
"One of the few senior-level officials who dealt with Saddam Hussein's government on a regular basis before the U.S.-led invasion relates his experiences as a former weapons inspector and WMD hunter…. Duelfer ably sketches the frustrating and difficult history of U.S.-Iraqi relations and his part in them…. It's the author's on-the-ground experiences that make this book so engaging, and at times chilling. Shortly after the invasion, one Iraqi security official told him bluntly, 'You know, to rule Iraq, you will have to become Saddam.' That comment, Duelfer writes, would echo in his mind for a very long time. A knowledgeable look at Iraq from a unique perspective."


Los Angeles Times, February 27, 2009
"Duelfer is a close observer of events that have shaped U.S. foreign policy in the last two decades, and, as such, his insights and descriptions are invaluable…. His chapter on the interrogation of Hussein by FBI agent George Piro is the stuff of psychological drama. If someone isn't working on a screenplay, they should."
Advertisement