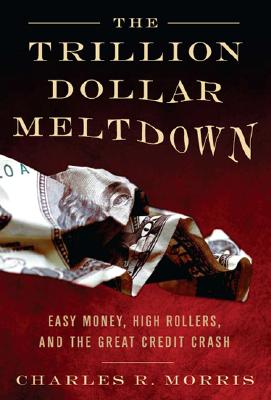 The Trillion Dollar Meltdown: Easy Money, High Rollers, and the Great Credit Crash (Hardcover)
Easy Money, High Rollers, and the Great Credit Crash
PublicAffairs, 9781586485634, 224pp.
Publication Date: March 1, 2008
* Individual store prices may vary.
or
Not Currently Available for Direct Purchase
Description
The sub-prime mortgage crisis is only the beginning: A more profound economic and political restructuring is on its way
About the Author
Charles R. Morris has written ten books, including The Cost of Good Intentions, one of the New York Times' Best Books of 1980, The Coming Global Boom, a New York Times Notable Book of 1990, and The Tycoons, a Barrons' Best Book of 2005. A lawyer and former banker, Mr. Morris's articles and reviews have appeared in many publications including The Atlantic Monthly, the New York Times, and the Wall Street Journal.
Praise For The Trillion Dollar Meltdown: Easy Money, High Rollers, and the Great Credit Crash…
"New York Times Notable Book of the Year"


"[The Trillion Dollar Meltdown] is an absolutely excellent narrative of the horror that we have in the credit markets right now.... It's a wonderful explanation of how it happened and why it's so rotten, and why it will take a long time to unwind."—Paul Steiger, former Mng Editor, Wall Street Journal

"However up to date it may seem, this book is no rush job. Morris deftly joins the dots between the Keynesian liberalism of the 1960s, the crippling stagflation of the 1970s and the free-market experimentation of the 1980s and 1990s, before entering the world of ultra-cheap money and financial innovation gone mad... [Morris's] provocative book is...a well-aimed opening shot in a debate that will only grow louder in coming months."—Economist, March 6, 2008

"Will provide some important background that will help decipher the meaning behind today's gloomy financial headlines. For those who wonder "Why?", here's a place to get some answers!"—Watsonville (CA) Register-Pajaronian, March 13, 2008

"Charles Morris, author of The Trillion Dollar Meltdown, isn't one for sugarcoating. His analysis is dour and grim, but certainly not dull. And when read against a backdrop of an ever-weaker economy, increasingly anxious economists and a stream of gloomy predictions, it can be downright scary....Morris serves up a sharp, thought-provoking historical wrap-up of the U.S. economy and its markets, along with clear scrutiny of today's economic woes."—USA Today, March 31, 2008

"[A] shrewd primer... [Morris] writes with tight clarity and blistering pace."—James Pressley, Bloomberg News

"Morris offers a persuasive diagnosis of the long-building credit crash.... An especially graceful writer, Mr. Morris accessibly explains Wall Street's arcane instruments.... This is a smart layperson's guide."—The New York Times, April 6, 2008

"In his brief but brilliant book, Morris describes how we got into the mess we are in…. Few writers are as good as Morris at making financial arcana understandable and even fascinating."—New York Times Book Review, April 20, 2008

"The Trillion Dollar Meltdown' by Charles R. Morris and Bad Money' by Kevin Phillips avoid the wild predictions of mass economic destruction, instead giving thoughtful, if alarming, histories and analyses of how we got into the mess we're in today."—Bloomberg News


"My favorite single book account [of the subprime crisis]."—Business & Economics Correspondent Adam Davidson, NPR.org Planet Money podcast, September 16, 2008
 

"[A] masterful and sobering book."—Commonweal, September 12, 2008
 

"…a primer."—Jim Pressley, Bloomberg.com, #1 book on the financial meltdown, September 19, 2008


"Charles R. Morris's THE TRILLION DOLLAR MELTDOWN (PublicAffairs) was handed to the publisher last Thanksgiving, a fact that gives Morris, a former banker, rock-solid status as a predictor of the crash. He homes in on the complexity and the paradoxical unpredictability of these financial instruments, which were supposed to manage risk and ended up magnifying it..."—The New Yorker


"If you don't know a lot about this current financial crisis, this is a great way to get some of the major contributors, including the role of mortgage-based securities, very quickly and simply. It's a short book; it's a well-argued book."—LAURA TYSON, S. K. and Angela Chan Professor of Global Management, Haas School of Business -- University of California, Berkeley
Advertisement