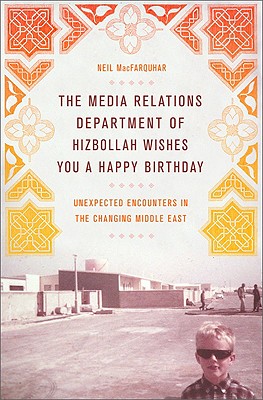 The Media Relations Department of Hizbollah Wishes You a Happy Birthday (Hardcover)
Unexpected Encounters in the Changing Middle East
PublicAffairs, 9781586486358, 400pp.
Publication Date: April 27, 2009
* Individual store prices may vary.
Description
Since his boyhood in Qadhafi's Libya, Neil MacFarquhar has developed a counterintuitive sense that the Middle East, despite all the bloodshed in its recent history, is a place of warmth, humanity, and generous eccentricity.
In this book, he introduces a cross-section of unsung, dynamic men and women pioneering political and social change. There is the Kuwaiti sex therapist in a leather suit with matching red headscarf, and the Syrian engineer advocating a less political interpretation of the Koran. MacFarquhar interacts with Arabs and Iranians in their every day lives, removed from the violence we see constantly, yet wrestling with the region's future. These are people who realize their region is out of step with the world and are determined to do something about iton their own terms.
About the Author
Neil MacFarquhar served as New York Times Cairo bureau chief from 2001 through 2005 and is now its UN bureau chief. His Mideast expertise predates his Cairo assignment: he grew up in Libya and covered the region for the AP, including stints in Israel and Kuwait. An Arabic speaker, his expertise in the region has led to appearances ranging from national television news to the Tribeca Film Festival. He is the author of a novel, The Sand Cafe (PublicAffairs), about Gulf war correspondents marooned in a Saudi hotel.
Praise For The Media Relations Department of Hizbollah Wishes You a Happy Birthday: Unexpected Encounters in the Changing Middle East…
Kirkus, 4/1
"A sly, knowledgeable look at the changes in Arab mores and politics since the 1970s, from a New York Times journalist with extensive experience in the region…. Having to navigate among oil wealth, repression and the simmering resentment of a struggling populace continues to plague the Arab states, stifling what MacFarquhar believes—and convincingly argues—they urgently need: new ideas, technology and innovation. A humane, well-reasoned investigation of the Arab countries of the Middle East and the tremendous vitality of their inhabitants."
Booklist, review 4/15
"The openness and immediacy of his on-site reporting reveals the diversity in country and culture as he explores current Arab attitudes toward the U.S., the oppression of women, the power of the Internet and satellite TV, the stifling control of the secret police, and much more. The professor forbidden to pluck her eyebrows sums it up: 'They focus on the trivial . . . so we don't worry about the big things.' Those big things will grab American readers, from religion's blocking of science to U.S. expediency in backing the powerful and, always, to the Israeli-Palestinian conflict."
Publishers Weekly, STARRED review
"While a glut of recent books on the Middle East have addressed Western perspectives on the region, this excellent book emphasizes questions Arabs ask themselves."
Time
"This survey of the modern Middle East is concerned with more than just the typical tales of conflict, death and revenge so often peddled by foreign correspondents. With both an insider's affection and an outsider's perspective, [MacFarquhar] paints a richer, more subtle portrait of the region through miniprofiles of the people, groups and agencies (big and small) that influence daily Arab life—Hizbollah, al-Jazeera, Saudi clerics and an influential Lebanese cleric, among others. As a result, stories of the hateful misogynist policies of the Saudi religious establishment and the dark deeds of the Jordanian secret police are more than balanced out by those of brave, modern reformers. By the book's end, MacFarquhar's hope for the region's future has become contagious."
Dallas Morning News
"His book's title reflects Mr. MacFarquhar's appreciation of the quirks of Middle Eastern life, but he provides insightful reporting and commentary about countries and people who consistently confound American policymakers…. MacFarquhar keeps his touch light as he examines serious issues, but he is a knowledgeable and wise observer. For anyone wanting a thoughtful and penetrating appraisal of the Arab world today, this is an exceptionally valuable book."
Time Out New York
"Reformers would do well to seek help from the individuals profiled in this book."
Newsweek
"Filled with first-rate analysis, leavened by plenty of local color."
Wendell Steavenson ,Washington Post
"Neil MacFarquhar is that rare and wonderful thing, a Middle East correspondent who not only speaks Arabic but also grew up in the region. This experience infuses his book -- the product of 20 years of reporting -- with the wit, insight and eye-rolling exasperation of a near-native…. The result is an intelligent and fascinating romp full of anecdotes, acid asides and conversations with everyone from dissidents to diplomats and liberal religious sheikhs, and even a Kuwaiti woman with a sex-advice column…. It's a testament to MacFarquhar's deep background knowledge and the lightness of his touch that complex issues … are distilled into clear exposition without ever being oversimplified or dumbed down. But MacFarquhar has written much more than just a very good primer to the region. His real achievement is to give the reader a window into the private debates among the intelligentsia and political classes of the Middle East…. MacFarquhar, now the United Nations bureau chief at the New York Times, is a fun guide.
San Jose Mercury News
"A revealing and at times moving account of a region alternately deified and demonized in the United States…. In his deft storytelling, it's the humanity and generosity of the author's subjects that shine through…. MacFarquhar makes an excellent guide to the eclectic mix of peoples often lumped together as 'Arab.'… Readers looking for a nuanced, sophisticated understanding of the region's complexities and contradictions will find MacFarquhar's book well worth their time."
Christian Science Monitor
"[MacFarquhar's] anecdotes – personal, wry, apt, and insightful – are the special sauce in his part-memoir, part-journalistic account, part-foreign-policy primer. The Media Relations Department of Hizbollah Wishes You a Happy Birthday shows recent history through the eyes of a 6-foot, 3-inch blond Arabic-speaking American, who wrote first for the Associated Press and then as the Cairo bureau chief of The New York Times. It aims – and succeeds – to animate the news with characters and compassion."
Elaine Margolin, The Forward
"Unusually compelling…. Neil MacFarquhar is a gifted writer and a natural storyteller and has used his unprecedented access to illustrate for us a vivid rendering of the Middle East in all its complexity, congestion and paranoia."
New York Times
"Mr. MacFarquhar's sly, vivid memoir, The Media Relations Department of Hizbollah Wishes You a Happy Birthday, is full of anecdotes backed up by perceptive analysis… Unlike many correspondents Mr. MacFarquhar speaks Arabic and shows an appreciation for the language, its poetry and political rhetoric. He uses compelling characters effectively to illustrate larger themes and forces at play in the region… Few in the West pay attention to these arguments within Islam — or to the daily tribulations of homegrown reformers — and that is the ultimate strength of this book. Mr. MacFarquhar has provided a sobering and heartbreaking record of these quiet struggles."

New York Times Book Review
"In this engaging and fact-filled reporter's memoir, Neil MacFarquhar successfully walks a fine line. He offers something fresh and unexpected for readers steeped in a decade of news reports about suicide bombers, absolutist imams and tyrannical despots. Yet he never forgets that most of those readers care about the subject only because they have already decided, perhaps simplistically, that they are under threat from the Arab or Muslim world. He nods to the prejudices about Middle Eastern fanatics and then sets off merrily to dispel them…. The Media Relations Department of Hizbollah Wishes You a Happy Birthday is MacFarquhar's effort to write a funny (yet penetrating) account about real Arabs—and a few Persians—struggling against long odds to bring their societies into the modern ages…. For those who care about the Middle East and want to start listening to weak but growing voices calling for reform and modernization on local rather than Western terms, MacFarquhar's account is a fine place to begin."
or
Not Currently Available for Direct Purchase