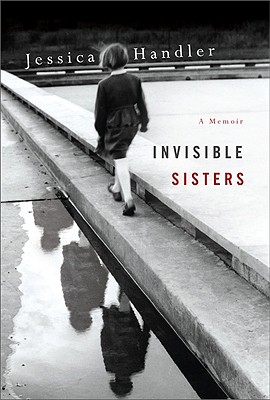 Invisible Sisters
Hardcover

* Individual store prices may vary.
Other Editions of This Title:
Paperback (9/15/2015)
Description
A compelling, lyrical memoir of a girl who must navigate the loss of her two sisters before she can discover herself
Praise For Invisible Sisters…
Ann Hood, author of Comfort and The Knitting Circle
"Invisible Sisters is both heartbreaking and hopeful. Even as Jessica Handler tells us of her family's losses, she reminds us to celebrate life. Handler shows us how to move forward without being afraid to look back. This book is a gift."
Michael Wex, author of Born to Kvetch: Yiddish Language and Culture in All Its Moods
"Invisible Sisters is an unsentimental but deeply moving look at the ways in which loss––loss past and the loss that is still to come––can shape lives. Jessica Handler's book is a quiet, near-hypnotic tour de force."
Rosellen Brown, author of Tender Mercies and Before and After
"Invisible Sisters chronicles the ambush of a happy family and its devastation in the face of every hope and effort. What Jessica Handler has rescued from grief, bravely and without self-pity, is the story of her own hard-won survival. The book in which she discovers a self separate from the anguished role she seemed destined to play haunted me from its very first page and has not let me go."
Kirkus, February 1, 2009
"With a sure grasp of revelatory detail, the author recalls homely verities from a vanished life. Her memory piece is an elegy for her dead sisters, who are not quite lost as long as they live in her thoughts. A heartfelt, painful family saga, skillfully told by a survivor."
Teresa Weaver, Atlanta magazine, review April '08 issue
"Some memoirs are affecting because they are universal, some because they are unique. Jessica Handler's Invisible Sisters derives its gut-punch power from being both…. Handler tells this story with the lyrical elegance and cool remove of Joan Didion's The Year of Magical Thinking—the highest praise possible for any memoir of loss…. There is an undeniable burden in being 'the only one left,' but there is true grace in the act—and art—of first remembering, then surviving."
PublicAffairs, 9781586486488, 272pp.
Publication Date: April 13, 2009
About the Author
Jessica Handler's nonfiction has appeared in Brevity.com, More Magazine, Southern Arts Journal, and Ars Medica. An essay derived from Invisible Sisters was nominated for a 2008 Pushcart Prize, and her work has received Honorable Mention for the Penelope Niven Creative Nonfiction Prize. A teacher of creative writing, she lives in Atlanta, Georgia.
or
Not Currently Available for Direct Purchase