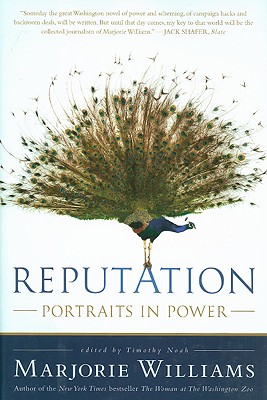 Reputation: Portraits in Power (Hardcover)
Portraits in Power
PublicAffairs, 9781586486792, 320pp.
Publication Date: October 6, 2008
* Individual store prices may vary.
or
Not Currently Available for Direct Purchase
Description
From the author of the New York Times bestseller The Woman at the Washington Zoo: A wry, incisive group portrait of America's ruling class.
About the Author
Marjorie Williams was born in Princeton, N.J. in 1958 and died in Washington, D.C. in 2005. She was a contributing editor to Vanity Fair and a columnist for The Washington Post. Williams is the author of The Woman at the Washington Zoo: Writings on Politics, Family, and Fate, a New York Times bestseller and winner of the PEN/Martha Albrand Nonfiction Award.
Praise For Reputation: Portraits in Power…
David Shribman, Wall Street Journal, October 3, 2008
"Where is Marjorie Williams when we need her? Surely we could have used her shrewd eye and incisive voice this week, amid so much congressional posturing, not to mention the theatrics of the campaign debates...."Reputation" provides wonderful sketches, superb examples of a silky stylist at the top of her art. If I had time enough or treasure I would hand a copy to every freshman journalism student and say: Make sure this genre does not die amid a flurry of podcasts and Twitters, and while you're at it look up Lytton Strachey -- in the library, not on Wikipedia."


Buffalo News, October 19, 2008
"Timeless ... sublime ... Williams' profiles, known for their fearlessness and wicked humor if not for their mercy, are always elegantly written and pitch-perfect ... She simply sees better than anyone and is unafraid to tell exactly what she sees."
 

Boston Globe, October 24, 2008
"As it happens, 'Boogie Man' appears at the same time as the late Marjorie Williams's book of Washington profiles, 'Reputation.' Williams's portrait of Atwater is both far more nuanced, and ultimately far more damning, than the documentary. Stacking the deck even against a cardsharp, as Williams knew, is still stacking the deck."
 

Shelf Awareness, October 22, 2008
"Marjorie Williams's writing displays the effortless grace of Tiger Woods's golf swing. Sadly her death from cancer in 2005 at the age of 47 cut short a stellar career. Now her husband, writer Timothy Noah, has assembled 12 of her sparkling political profiles as a welcome companion to an earlier collection, The Woman at the Washington Zoo. It's impossible to read these insightful portraits without mingled feelings of admiration and loss."

Harvard Magazine, November/December issue
"No matter who is elected, the president must contend with those permanently in power: No one ever portrayed such people better than the late Marjorie Williams, as this second collection of her work ... vividly shows."
 

Elizabeth Taylor, Editor's Choice pick, Chicago Tribune, November 1, 2008
"…makes us long for [Marjorie's] powers of observation, reminds us that a writer can make us see the world in an entirely new way if we only gaze from different angles."
 

Fiona Zublin, Express, November 10, 2008
"…politically relevant ... uncommonly well-drawn and intimate."
 

J. Courtney Sullivan, New York Times Book Review, November 30, 2008
"Williams observes her subjects with a winning mix of cynicism and compassion, humor and wisdom ... [a] brilliant collection."
 

J. Courtney Sullivan, New York Times Book Review, November 30, 2008
"Williams observes her subjects with a winning mix of cynicism and compassion, humor and wisdom…Reading through this brilliant collection brings on a feeling of loss: we don't know what Williams might have thought about the political landscape of 2008. No doubt, her essay on Sarah Palin would have been the stuff of legend."
 

Tim Rutten, The Los Angeles Times, December 9, 2008
"The posthumous collection shows why the independent-minded journalist was one of our best guides through Washington's paths of power. "


Margaret Talbot, Washington Monthly, January/February issue
"…a writer's writer ... wry, mischievous, a social observer on whom nothing in the passing scene was lost ... The Williams profile combines psychological, political, and anthropological observation in just the right, reader-satisfying measure ... Williams earns that favorite compliment of nonfiction writers: her descriptive details are 'novelistic' ... In Williams' work, real people, like characters in good novels, got the clear-eyed treatment, but they were also granted a context for their flaws, and the grace of understanding."
Advertisement