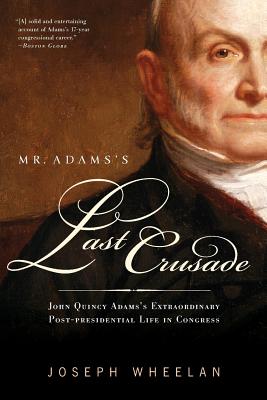 Mr. Adams's Last Crusade: John Quincy Adams's Extraordinary Post-Presidential Life in Congress (Paperback)
John Quincy Adams's Extraordinary Post-Presidential Life in Congress
PublicAffairs, 9781586486891, 336pp.
Publication Date: March 1, 2009
Description
When John Quincy Adamsthe sixty-three-year-old former president, U.S. senator, secretary of state, and diplomatwas elected to the House of Representatives by his Massachusetts neighbors, he embarked on a spectacular late-life career.
He became Congress's most acerbic and influential critic of slavery as well as a tireless proponent for human freedoms and First Amendment rights. This remarkable congressional career utterly transformed him, the public's perception of him, and his legacyin many ways redeeming his failed presidency. "Mr. Adams's Last Crusade" renders an insightful portrait of a man who placed his country above politics.
About the Author
Joseph Wheelan, a former Associated Press reporter and editor, is the author of Invading Mexico: America's Continental Dream and the Mexican War, 1846-1848; Jefferson's War: America's First War on Terror, 1801-1805; and Jefferson's Vendetta: The Pursuit of Aaron Burr and the Judiciary. He lives in Cary, North Carolina.
Advertisement