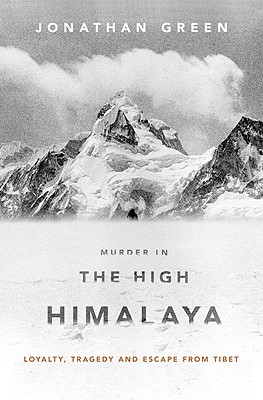 Murder in the High Himalaya (Hardcover)
Loyalty, Tragedy, and Escape from Tibet
PublicAffairs, 9781586487140, 304pp.
Publication Date: June 1, 2010
* Individual store prices may vary.
Description
An intrepid journalist's investigation of coldblooded murder in Chinese-occupied Tibet leads him deep within a lawless world in the land of the snows
About the Author
Award-winning journalist Jonathan Green has written for the New York Times, Men's Journal, Esquire, GQ, The Financial Times Magazine, Men's Health, and The Mail on Sunday, among others. Never shy of demanding assignments, he has reported in war-torn Sudan, the jungles of Borneo, and the ice fields of Alaska. He lives in Massachusetts with his wife.
Praise For Murder in the High Himalaya: Loyalty, Tragedy, and Escape from Tibet…
Shelf Awareness"A shattering tale that will appeal to readers of all things about Tibet, mountaineering, human rights and the preservation of cultural integrity." Kirkus"Green's steely, factually dense analysis of this unlawful conspiracy sheds light on a perennial human-rights crisis…. In clear, concise prose, the author deliberates over China's stranglehold on Tibet, its systematic dismantling of the indigenous culture and the terror tactics employed on families." The Bookseller"A gripping tale of routine murder that would have gone unreported but for the fact that a group of Western clumbers were silent witnesses to the killing of a young Tibetan woman attempting to cross the border into India." Mikel Dunham, author of Buddha's Warriors"Once in a while, a book comes along that transcends its region-specific subject matter and addresses universal questions with calm moral clarity. Murder in the High Himalaya is such a book. It is a mesmerizing alpine adventure of horrifying consequences, a sober look at China's crimes against humanity, and a reality check on the so-called heroics of Westerners who belong to the elite mountaineering community." Macleans"Who spoke out and who did not, and why, is at the heart of one of the most unsettling books of recent years."  Economist"By personalising Namtso's life and death, Mr Green has conjured in the flesh an otherwise anonymous figure from Tibet's shadows"  Daily Beast"Brilliantly told…. Captivating." The Economist, June 11, 2010"By personalising Namtso's life and death, Mr Green has conjured in the flesh an otherwise anonymous figure from Tibet's shadows."  The Daily Beast, June 18, 2010"Brilliantly told…. Captivating." The Spectator (UK), June 17, 2010"A word is missing from the subtitle of Jonathan Green's shocking exposé: cowardice. It shines out of his story of the murder of the 17-year-old Tibetan nun, Kelsang Namtso…. The core of this book is Kelsang's murder and its implications, which Green, an experienced journalist, recounts vividly and with scrupulous attention to evidence… In this book he shows himself to be a first-class reporter." Los Angeles Times, July 18, 2010"Green's descriptions are breathtaking." Richard Gere
"Murder in the High Himalaya is the enthralling story of Kelsang Namtso and Dolma Palkyi and the unbearable lengths these young girls went to in search of education and freedom. It is a heartbreaking and damning statement of failed policies by the Chinese government against Tibetans who despite these brutal obstacles, still refuse to give up hope. For the first time we were eyewitnesses to the murder of innocent Tibetans during their attempt at freedom. This book is a meaningful testament to the human spirit in its purest form." Peter King, Sports Illustrated.com
"Great thing about [Murder in the High Himalaya] is I knew nothing about Tibetan culture and the Dalai Lama and the vital significance to every citizen there, in defiance of Chinese law. Fascinating." The Asian Review of Books
"As a resident of the Himalayas, and a practicing Buddhist myself, I was impressed with the author's understanding of the complex culture and the subtleties of people living in the Himalayan region." Mail on Sunday
"…an extraordinary book…. [Green's] irrefutable account of a superpower's shame." 
or
Not Currently Available for Direct Purchase