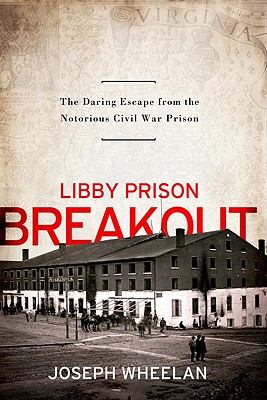 Libby Prison Breakout: The Daring Escape from the Notorious Civil War Prison (Hardcover)
The Daring Escape from the Notorious Civil War Prison
PublicAffairs, 9781586487164, 304pp.
Publication Date: February 9, 2010
* Individual store prices may vary.
or
Not Currently Available for Direct Purchase
Description
A suspenseful narrative of an exhilarating moment during the Civil War—the February 1864 escape of 109 Union officers from "The Bastille of the South"
About the Author
Joseph Wheelan, a former Associated Press reporter and editor, is the author of Mr. Adams's Last Crusade, Invading Mexico, Jefferson's War, and Jefferson's Vendetta. He lives in Cary, North Carolina.
Praise For Libby Prison Breakout: The Daring Escape from the Notorious Civil War Prison…
Kirkus Reviews
"The harrowing, little-known story of the 109 Union officers who escaped from a Richmond prison in 1864—an episode that deserves a higher place in Civil War lore….A true-adventure story that also documents how prisoner abuse and recriminations spurred the federal commitment to the "total war" that ravaged the South"

Library Journal
"Civil War buffs especially will want to read about this mass prison break that riveted North and South in the late winter of 1864"

Booklist
"Buffs will be intrigued by Wheelan's thorough research"

Newark Star Ledger
"It's not very often that a solid and scholarly history book is a page-turner to rival a John Grisham potboiler… Joseph Wheelan's book is crammed with the kind of detail that has slipped away the last 150 years."

Civil War News, June 2010
"Joseph Wheelan has written a winner of a book… No detail is missed, and the pages turn quickly. Perhaps most importantly these men are given identities as Wheelan brings to life the protagonists by craftily resurrecting their lives before the war and what they endured inside the converted tobacco barn. In doing so Wheelan provides pathos, excitement and insight into the yearning of all POWs for freedom."
Advertisement