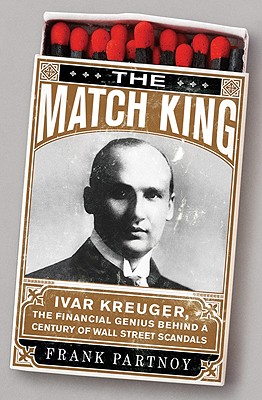 The Match King: Ivar Kreuger, The Financial Genius Behind a Century of Wall Street Scandals (Hardcover)
Ivar Kreuger, The Financial Genius Behind a Century of Wall Street Scandals
PublicAffairs, 9781586487430, 288pp.
Publication Date: April 13, 2009
* Individual store prices may vary.
or
Not Currently Available for Direct Purchase
Description
An all-too prescient parable of how unregulated markets, greed, and unchecked ambition can wreak havoc on our economic system
About the Author
Frank Partnoy is the author of F.I.A.S.C.O.: The Inside Story of a Wall Street Trader and Infectious Greed: How Deceit and Greed Corrupted the Financial Markets. He has worked as an investment banker at Morgan Stanley and a corporate lawyer, and has testified as an expert before both the United States Senate and House of Representatives. A graduate of Yale Law School, he currently teaches law at the University of San Diego.
Praise For The Match King: Ivar Kreuger, The Financial Genius Behind a Century of Wall Street Scandals…
George A. Needham, Founder and Chairman of Needham & Company
"The tale of Ivar Krueger, vividly brought to life by Frank Partnoy, is a reminder that Wall Street has not changed much since the late 1920's. The players change, but the animal spirits remain the same. Anyone interested in today's financial crisis will be captivated by this story."
Time, January 13, 2009
"Frank Partnoy has an exceptionally well-timed book on Ivar Kreuger coming out."
Robert A. G. Monks, author of Corpocracy and The New Global Investors
"The Match King is a skillfully told tale of the romance and the corruption involved in attempting to be on top of the world. How did Krueger enlisted the loyalty of the people essential to him? Yes, some he bought, but most -- he beguiled."
Ron Chernow, The New Yorker, 3/23
"An engrossing study of Ivar Kreuger."
Kirkus, 4/1
"A pertinent, timely tale of financial fraud and how it was maintained for so long."
Booklist, review 4/15
"A timely and excellent book."
Wall Street Journal
"Frank Partnoy tells the story of Kreuger's rise and calamitous fall in an eminently readable and scholarly biography…the tale of the Match King holds lessons for our own day and for future generations."
BusinessWeek
"An absorbing tale and a poignant reminder that every boom has its scoundrels…Partnoy gives us a rich account of the Roaring Twenties' most astounding confidence man"
The Economist
"[The Match King] provides a fascinating insight into how high society falls prey to such colourful characters. Kreuger's story is uncannily relevant today."
Slate.com
"Riveting"
New Jersey Star Ledger
"Ivar Kreuger, the super-secretive Swede who made Ponzi look like a piker, doesn't readily come to mind when discussing over-the-top scamsters. But Frank Partnoy's spreadsheet-thorough book should help change that."
Salon.com
"The Match King is a fun, thought-provoking read that might have seemed like an archaic detour if it had been published five years ago, but now should be required reading for would-be regulators."
Christian Science Monitor
"Oh, how we love to read about the downfall of the rich and famous! Especially the rich. Especially when they're corrupt. Consider Swedish industrialist Ivar Kreuger, the Bernard Madoff of his time, whose story is explored in Frank Partnoy's brisk new biography The Match King."
NPR's 'Planet Money'
"[A] great story about aspiration and deceit and the mania that can come with investing."
Barron's
"In his biography The Match King, Partnoy shows how Kreuger transformed himself from a withdrawn Swedish boy to a superstar, international businessman and financier … Partnoy knows how to ratchet up the suspense."
PopMatters.com
"Frank Partnoy's The Match King—which should be required reading for every financial whiz or businessman who claims to be performing due diligence on a too-good-to-be-true investment opportunity—is not just a proof of that truism but a painfully captivating account of just how easily those suckers are found and fleeced by the Madoffs of the world."

New York Times Book Review
[A] true-life business thriller…[Partnoy] has a historian's assiduous dedication to telling the truth in all its uncomfortable complexity."
Advertisement