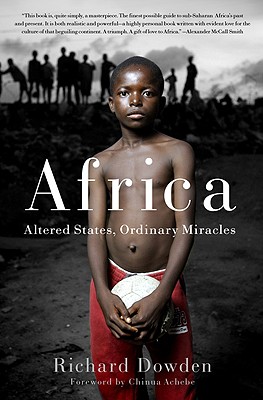 Africa: Altered States, Ordinary Miracles (Hardcover)
Altered States, Ordinary Miracles
PublicAffairs, 9781586487539, 592pp.
Publication Date: March 9, 2009
* Individual store prices may vary.
or
Not Currently Available for Direct Purchase
Description
After a lifetime's close observation of the continent, one of the world's finest Africa correspondents has penned a landmark book on life and death in modern Africa. In captivating prose, Dowden spins tales of cults and commerce in Senegal and traditional spirituality in Sierra Leone; analyzes the impact of oil and the internet on Nigeria and aid on Sudan; and examines what has gone so badly wrong in Zimbabwe, Rwanda, Burundi, and the Congo. From the individual stories of failure and success comes a surprising portrait of a new Africa emerging—an Africa that, Dowden argues, can only be developed by its own people. Dowden's master work is an attempt to explain why Africa is the way it is and calls for a re-examination of the perception of Africa as "the dark continent." He reveals it as a place of inspiration and tremendous humanity.
About the Author
Richard Dowden is director of the Royal African Society. He spent a decade as Africa Editor of the Independent, and then another decade as Africa Editor of the Economist. He has made three television documentaries on Africa, for the BBC and Channel 4.
Praise For Africa: Altered States, Ordinary Miracles…
Kirkus, February 1, 2009, STARRED review
"The director of the Royal African Society offers an ambitious, roundly informative and still intimate look at sub-Saharan Africa's turbulent road in the modern era. …Dowden displays a deeply felt knowledge of the recent history of sub-Sahara Africa, and his suggestions for its future are well-informed and wise. A remarkably full-bodied and frank discussion of Africa's place in the world."

Pittsburgh Post-Gazette, 3/8: featured in Spring round-up
"Dowden's been a journalist in Africa since 1971 and here explains, for Sarah Palin's benefit and ours, that the continent is actually a wide variety of nations. He gives us an in-depth tour."
O, the Oprah Magazine, April issue
"A deeply informed and informative 'tough love' love letter to a continent."

Nicholas Kristof, New York Times Book Review
"We journalists tend to cover Africa in stark and simple contrasts, but countries live and grow and falter in grays. So it's refreshing to encounter not only Dowden's hopefulness, but also his reliance on shading and nuance, on the recognition that the world does not have to feel sorry for Africa to care about it."
Advertisement