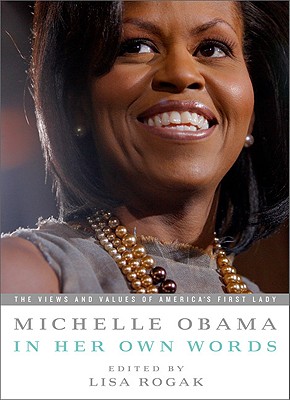 Michelle Obama in her Own Words
Paperback

* Individual store prices may vary.
Description
The election of Barack Obama has brought worldwide attention not only to what his policies will be, but to what kind of First Lady Michelle Obama will be. Throughout the long campaign season, Michelle Robinson Obama garnered a good amount of attention, kudos and criticism about her words, actions, even her appearance, but few people know what kind of role she will play once she settles into the White House. One clue is to examine her words and statements of the past, and the proposed book Michelle Obama In Her Own Words will show readers who are eager to learn more about America's new history-making First Lady. Michelle Obama In Her Own Words will be a book that contains 200-250 quotations arranged in approximately 75 different categories. A short introduction and biography of the new First Lady will precede the quotes. Drawing on quotations from a variety of newspaper and magazine articles, transcripts, speeches, and TV interviews and profiles, the quotations date from Michelle's career as a high-powered corporate lawyer in Chicago and her high-powered executive jobs in the Chicago Mayor's office and at the University of Chicago, up through the election of November 5th, 2008. Rogak locates and organizes the funny, fascinating, inspiring (and occasionally controversial) words of our future First Lady, on topics such as:
Abortion
Affirmative Action
Balancing career and family
Barack's safety
Being compared to Jackie Onassis
Her childhood
Her critics
Her fashion sense
Hillary Clinton
Iraq
Racism
Rev. Jeremiah Wright
Sarah Palin
Terrorism
The "elitist" tag
The Presidential campaign
The role of the First Lady
Women who have influenced her
PublicAffairs, 9781586487621, 176pp.
Publication Date: April 14, 2009
About the Author
Lisa Rogak is the author of more than forty books and hundreds of newspaper and magazine articles. She has written biographies of Dr. Robert Atkins, Dan Brown, Shel Silverstein, and Stephen King. She lives in Charleston, South Carolina.