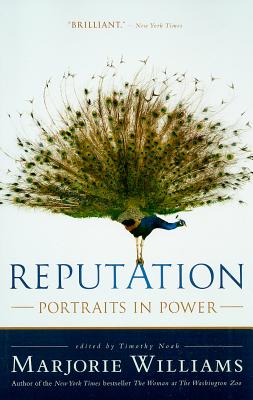 Reputation
Portraits in Power
Paperback

* Individual store prices may vary.
Description
In 2005, The Woman at the Washington Zoo was published to major critical acclaim. The late Marjorie Williams possessed "a special voice, one capable not just of canny political observations but of tenderness and bracing intimacy," observed the New York Times Book Review.

Now, in a collection of profiles with the richness of short fiction, Williams limns the personalities that dominated politics and the media during the final years of the twentieth century. In these pages, Clark Clifford grieves "in his laborious baritone" a bank scandal's blow to his re-pu-taaaaaay-shun. Lee Atwater likens himself to Ulysses and pleads, "Tah me to the mast!" Patricia Duff sheds "precipitous tears" over her divorce from Ronald Perelman, resembling afterwards "a garden refreshed by spring rain."

Reputation illuminates our recent past through expertly drawn portraits of powerful -- and messily human -- figures.
PublicAffairs, 9781586487713, 320pp.
Publication Date: October 6, 2009
About the Author
Marjorie Williams was born in Princeton, N.J. in 1958 and died in Washington, D.C. in 2005. She is the author of The Woman at the Washington Zoo, a New York Times bestseller and winner of the PEN/Martha Albrand Nonfiction Award. She is survived by her husband, Timothy Noah, a senior writer at Slate, and her children, Alice and Will.