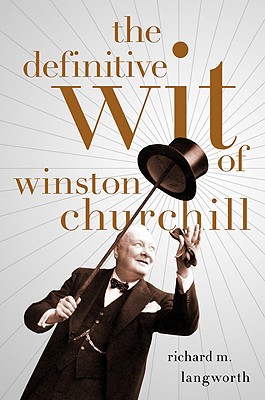 The Definitive Wit of Winston Churchill
Hardcover

* Individual store prices may vary.
Description
Charismatic, erudite, and often controversial, Winston Churchill was one of the most inspiring leaders of the twentieth century, and one of its greatest wits. His much-celebrated sense of fun and mischief has led to many of his jokes and ripostes becoming almost as well known as his famous wartime speeches. Gloriously comprehensive, The Definitive Wit of Winston Churchill includes all Churchill's most famous quips and witticisms, and even an appendix of quotes falsely attributed to Churchill. The only book of its kind to be sanctioned by the Churchill estate and to track down each quotation to its source, it captures the great statesman at his most eloquent, witty, and engaging and makes a great gift for the holidays and special occasions year-round.
PublicAffairs, 9781586487904, 256pp.
Publication Date: December 1, 2009
About the Author
Richard M. Langworth is the author of A Connoisseur's Guide to the Books of Winston Churchill and the editor of Finest Hour, the journal of Winston Churchill. He served as president of The Churchill Centre from 1990 to 1999 and has since served on its board of trustees.