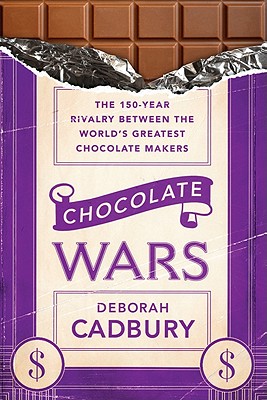 Chocolate Wars (Hardcover)
The 150-Year Rivalry Between the World's Greatest Chocolate Makers
PublicAffairs, 9781586488208, 384pp.
Publication Date: October 1, 2010
Other Editions of This Title:
Paperback (10/25/2011)
Paperback (6/1/2011)
* Individual store prices may vary.
Description
The delicious history of rival chocolate companies and their fascinating dynasties—the Lindts, Frys, Hersheys, Mars, and Nestlés— told by a descendant of the Cadbury family
About the Author
Deborah Cadbury is a writer, award-winning documentary producer for the BBC, the author of seven books, and a relative of the famous Quaker family that gave their name to one of the world's most famous brands of chocolate.
Praise For Chocolate Wars: The 150-Year Rivalry Between the World's Greatest Chocolate Makers…
Booklist, October 1, 2010
"This tale of capitalist rivalry mixed with Quaker values makes for a very sweet journey."
Washington Post
"This is a delicious book, seductive as a tray of bonbons, a Fancy Box in every way."
The New Yorker Book Bench
"For chocolate lovers and Roald Dahl fans, some heartening news: Willy Wonka's factory – or at least something that sounds very much like it – was a real place... Though Cadbury begins with teasingly enviable childhood recollections... the story she tells is really about Quakers, and one family's continuous struggle to reconcile religious values – pacifism, austerity, sobriety – with the indulgent nature of their product and the ruthlessly competitive capitalism of the world in which they made their fortune... It's hard not to root for these guys and the story is all the more bittersweet because we know how it ends."
The Daily Telegraph
"Engaging and scholarly, confident and compassionate, Chocolate Wars is less a family biography than an impressively thought provoking parable for our times... A vibrant history." 

Business Times
"Fascinating...Chocolate Wars presents narrative history at its most absorbing, peopled by colourful characters: the true story of the chocolate pioneers, the visions and ideals that inspired them and the mouth-watering concoctions they created... Deborah gives readers an insider look, fleshing out the stories around her family with her familiar competence as a bestselling historian and award winning documentary maker."

Kirkus
 "A fine pocket history of corporate confectionery... Cadbury has a knack for capturing the driven personalities who launched these [chocolate] empires." 

Library Journal
"Although written by proud Cadbury kin, the narrative is balanced and fair. This is a well written and well researched look at chocolate and the Quaker business tradition that any food or history buff will enjoy."
Sunday Times
"Chocolate Wars – clear, readable and richly detailed – is at least as much about Quakers as it is about chocolate... enjoyable."
Financial Times, November 15, 2010
"Deborah Cadbury's branch of the Cadbury family wasn't involved in the chocolate business but she garnered a deep impression from a childhood visit to her cousins' company and the reader of Chocolate Wars feels they are getting an insider's view. Her own background as a historian and TV documentary maker means that this book communicates in an episodic and visual style, making what risks being a dull subject gripping as it flips back and forth around the world documenting parallel events in the emergence of the chocolate industry."
Examiner.com, November 14, 2010
"The 150-year rivalry among the world's greatest chocolate making families, is told by a descendant of one of the families. Just think what sweetness came out of these families' rivalries, depicted deliciously in this new book." 
Boston Globe, November 14, 2010
"Deborah Cadbury begins with a brief description of Quaker aims and humane business practices before moving on through the history of the family business. This takes in the truly exciting race to put Cadbury's chocolate candy in every mouth, to the exclusion of that made by rival English Quaker firms, Rowntree and Fry, to say nothing of the Swiss Lindt and Nestlé. Her many faceted account takes in technology, distribution, and industrial espionage, advertising and packaging, labor relations and model housing for workers, the role of the firm and its owners in wartime and international expansion." 
Gulfnews.com, November 26, 2010
"Engaging and scholarly, Chocolate Wars is less a family biography than an impressively thought-provoking parable for our times." 
Los Angeles Times, November 28, 2010
"Fascinating…Read this excellent book." 
Philadelphia Inquirer, November 28, 2010
"The inside story of the 150-year rivalry among Cadbury, Hershey, Nestlé, and Mars is a fascinating and luscious tale. Deborah Cadbury, great-great-great-granddaughter of 19th-century chocolate maker John Cadbury, tells it eloquently in 
Chocolate Wars
, drawing the reader into her epic of family and industry with clear love for her subject."
Christian Science Monitor, December 1, 2010
"[Chocolate Wars] pits idealism against capitalism, religious piety against the forces of greed and cutthroat competition. Though, like great fiction, it defies belief, it's the true story of our favorite guilty pleasure. Cadbury's book, like her namesake's famous sampler, is full of surprises and delights."
Bnreview.com, December 2010
"This engaging history of the 150-year rivalry among the world's greatest chocolate makers—the English firms Fry, Rowntree, and Cadbury (to which the author, Deborah Cadbury, is an heiress), their European competitors Lindt and Nestlé, and the American upstarts Hershey and Mars—is delightful, especially for its fascinating portrait of the 19th-century success of Quaker capitalism, built quite remuneratively on the ideal that wealth creation entails responsibilities beyond personal gain."
KREL (Florida talk radio) "The Happy Cook" "An eye-opening, illuminating book that features a cast of brilliant entrepreneurs…the story gripped me from start to finish."
Coverage from NPR
or
Not Currently Available for Direct Purchase