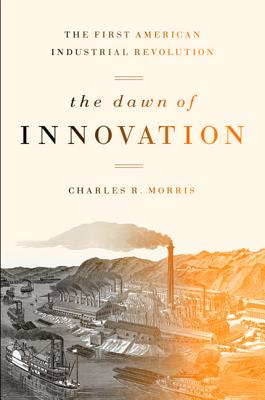 The Dawn of Innovation: The First American Industrial Revolution (Hardcover)
The First American Industrial Revolution
PublicAffairs, 9781586488284, 368pp.
Publication Date: October 23, 2012
* Individual store prices may vary.
or
Not Currently Available for Direct Purchase
Description
From the bestselling author of The Trillion Dollar Meltdown and The Tycoons comes the fascinating, panoramic story of the rise of American industry between the War of 1812 and the Civil War
About the Author
Charles R. Morris has written twelve books, including The Coming Global Boom, a New York Times Notable Book of 1990; The Tycoons, a Barron's Best Book of 2005; and The Trillion Dollar Meltdown, winner of the Gerald Loeb Award and a New York Times Bestseller. A lawyer and former banker, Mr. Morris's articles and reviews have appeared in many publications including the Atlantic Monthly, the New York Times, and the Wall Street Journal.
Praise For The Dawn of Innovation: The First American Industrial Revolution…
Kirkus
"The author is at his best when he focuses on the people behind the technology…. Morris' research is thorough…. Ambitious."

Paul Steiger, editor-in-chief of ProPublica and former managing editor of the Wall Street Journal
"Charles Morris, fast becoming our leading narrative historian of economic success and scandals, tells how nineteenth-century America outproduced, outmarketed,  outdistributed––and stole technology from––the former No. 1 power, Great Britain, to displace it on the world stage. The fascinating tale also holds crucial lessons for Americans as China races to unseat the U.S. as the world leader."

Charles H. Ferguson, director of Inside Job and author of Predator Nation                         
"A fascinating book that pulls together the strands of American development into a sweeping and vivid account of the nation's rise to economic preeminence. Charles Morris has a special gift for making complicated subjects accessible and even entertaining."

Booklist"An unprecedented 3.9 percent average annual rate of economic growth—sustained for more than a century—propelled the U.S. to global economic leadership. Morris chronicles the remarkable story behind the remarkable number… Morris concludes with a provocative comparison of the nineteenth-century duel pitting the U.S. against Great Britain and today's rivalry between China and the U.S. Economic history freighted with social and political relevance."
Advertisement