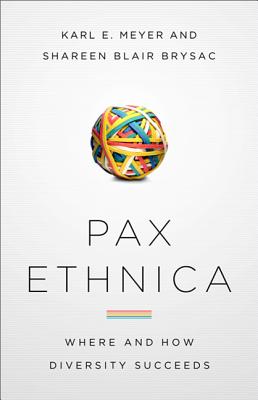 Pax Ethnica (Hardcover)
Where and How Diversity Succeeds
PublicAffairs, 9781586488291, 304pp.
Publication Date: March 13, 2012
* Individual store prices may vary.
Description
In a world replete with stories of sectarian violence, we are often left wondering: Are there places where people of different ethnicities, especially with significant Muslim minorities, live in peace? If so, why haven't we heard more about them, and what explains their success?
To answer these questions, Karl Meyer and Shareen Brysac undertook a two-year exploration of oases of civility, places notable for minimal violence, rising life-expectancy, high literacy, and pragmatic compromises on cultural rights. They explored the Indian state of Kerala, the Russian republic of Tatarstan, the city of Marseille in France, the city of Flensburg, Germany, and the borough of Queens, New York. Through scores of interviews, they document ways and means that have proven successful in defusing ethnic tensions. This pathbreaking book elegantly blends political history, sociology, anthropology, and journalism, to provide big ideas for peace.
About the Author
Karl E. Meyer
, a Princeton PhD, served on
The New York Times
editorial board, and previously was a foreign correspondent and editorial writer on
The Washington Post
. He is author of a dozen books including
Dust of Empire
, and is emeritus editor of the
World Policy Journal
.
Shareen Blair Brysac was a prize-winning documentary producer for CBS News and is author of Resisting Hitler: Mildred Fish Harnack and the Red Orchestra. Together they wrote Tournament of Shadows and Kingmakers: The Invention of the Modern Middle East. The couple live in New York City and Weston, Connecticut.
Praise For Pax Ethnica: Where and How Diversity Succeeds…
Winnipeg Free Press
"This informative look at successful immigration hubs worldwide explores what New York-based American academics Karl Meyer and Shareen Blair Brysac call 'oases of civility.'… it is not overburdened by specialized jargon or turgid academic prose. Non-specialists in the social sciences will find it accessible and, because of the breadth of the subject matter, containing much food for thought." 
Queens Gazette
"[It] elegantly blends political history, sociology, anthropology and journalism, to provide big ideas for peace….  Pax Ethnica dares to look at one of the world's seemingly most intractable problems from a new perspective that is fresh and innovative." 
Toronto Globe & Mail

"An interesting and encouraging glimpse into five cases where diversity seems to succeed."
Washington Post

Robert G. Kaiser, author of So Damn Much Money
"Karl Meyer and Shareen Brysac call themselves independent scholars, but they are also old-fashioned, shoe-leather reporters, and it is the combination of scholarly sensibilities and reportorial enthusiasm that makes their book such a delight. They started with a smart idea about the importance of multi-ethnic communities that thrive, then tested it against the realities of five such communities from Queens in New York to Kerala in India. The result is an engaging, provocative and satisfying book on one of the most important topics of our time."


Donald W Shriver, President Emeritus, Union Theological Seminary, New York  
"By identifying five vibrant, diverse communities around the world whose 'get along,' this book demonstrates that a pluralistic human society is no mere dream.  If it has happened in those five places, it must be possible elsewhere."  


Barbara Crossette, author of So Close to Heaven: The Vanishing Buddhist Kingdoms of the Himalayas         
"In an age of ethnic strife, this inspired and prescient book takes readers to places where good people and good policies make peace prevail, in five regions as different as India's Kerala state and New York City's borough of Queens, perhaps the most multicultural place on earth. Diversity is the global future, and Pax Ethnica lays out some proven pathways to successful coexistence."
 

Jonathan Power
"In their new book, Pax Ethnica, two great journalists, Karl Meyer and Shareen Brysac, argue that day in and day out ethnic conflict and tension along religious and cultural lines makes for reliable, if dispiriting, headlines. Journalists regularly play plenty of attention to failed states, sectarian violence and societies at the breaking point. But what about those unsung exceptions, the communities of the world where diverse groups live together in harmony?... One can't be quite so pessimistic about the world's divisions if one studies these five examples. Why don't the media focus more on what works?
 


Kirkus
"A good-news book, based on serious research, about how traditionally hostile groups can overcome differences to live in harmony…. The authors on-the-ground reporting is impressive, especially given the built-in language barriers…. A skillful rendering of an inspiring message."


Victor S. Navasky
"Given the clashing creeds, cultures and ethnicities that plague our planet, is peace possible? It's hard to imagine a more thoughtful and creative, attempt to answer this question than the original, surprising and sophisticated case studies ('sane oases in a fanatic world') that Meyer and Brysac provide in thoughtful and accessible prose, in this oddly reassuring book."


Robert Jay Lifton, author of Witness to an Extreme Century: A Memoir
"After reading this book one will forever question the shibboleth of unyielding 'ancient hatreds' and recognize that thoughtful leadership and wise policies can turn ethnic diversity into tolerable and tolerated coexistence. Pax Ethnica will take its place among original social and historical works in our time."